Philippine Coast Guard Seizes Bulker Over Illicit Ore Cargo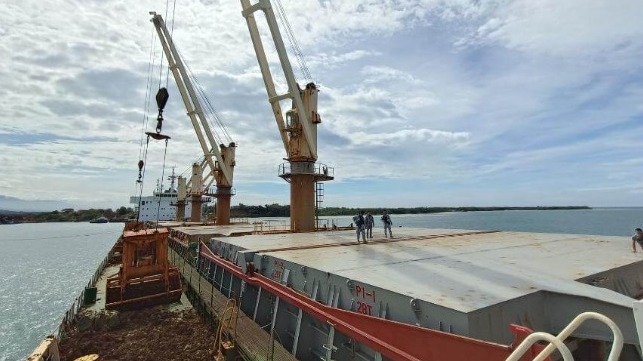 The Philippine Coast Guard (PCG) has detained a freighter loaded with an unpermitted mineral ore cargo in a rare enforcement action against mining operators.
The PCG's Task Force Aduana has detained the geared bulker Van Knight off the coast of Santa Cruz, a port town in the province of Zambales. The action enforces a warrant issued by the Philippine Bureau of Customs for the vessel's seizure and detention in connection with environmental permitting deficiencies related to her cargo.
The Philippines' Department of Environment and Natural Resources asserts that the exporter - Yinglong Steel Corporation (YSC) - does not have a valid mineral ore export permit. The permit was suspended last week over alleged failure to comply with a presidential decree on environmental management of mining activity. By longstanding regulation, mining companies have to have an environmental compliance certificate from the DENR to export ore.
Zambales has a longstanding problem with unauthorized mining, and the YSC mine is particularly controversial, according to The Manila Times. The Chinese company purchased mining rights to the property from a Philippine firm in 2021, and YSC has allegedly not fully paid for the real estate - nor secured the required permits. Local residents have complained about water pollution and siltation from YSC's activities, and in October 2022, the DENR ordered YSC to cease and desist from further operations.
Nonetheless, the administration of Philippine President Ferdinand Marcos Jr. allegedly attempted to block regulatory enforcement and allow YSC to continue exports in late December. The detention of the Van Knight and her cargo suggests that regulators are moving ahead to enforce restrictions on YSC's operations despite the palace order.
DENR has been attempting to improve the environmental performance of miners in Zambales for more than a decade. In 2014-16, it ordered the suspension of all four large mining concessions in the province until they showed improvement, including proper ore storage to prevent pollution and post-mining restoration to return concession areas to their natural state.
Enforcement may be especially challenging in the current market environment. Refined nickel is currently worth about $13 per pound, twice its value four years ago, and the financial incentive for miners to extract and export ore is high.