Pearl Harbor Remembrance Day Proclaimed
U.S. President Donald Trump signed a proclamation declaring December 7 to be National Pearl Harbor Remembrance Day. The declaration comes on the 76th anniversary of the surprise attack by Japan which plunged the U.S. into WWII.
Trump signed the proclamation at a White House ceremony attended by six veterans of the attack. He said: "All American hearts are filled with gratitude for their service, their sacrifice and their presence here... Today, our entire nation pauses to remember Pearl Harbor and the brave warriors who, on that day, stood tall and fought for America." Trump visited Pearl Harbor and its memorial to the USS Arizona last month before he departed for his trip to Asia.
The attack commenced at 7:48a.m. Hawaiian Time on December 7, 1941. The U.S. naval base at Pearl Harbor was attacked by around 350 Imperial Japanese aircraft (including fighters, level and dive bombers, and torpedo bombers) in two waves, launched from six aircraft carriers.
All eight U.S. Navy battleships present were damaged, with four sunk. All but the USS Arizona were later raised, and six were returned to service and went on to fight in the war. The Japanese also sank or damaged three cruisers, three destroyers, an anti-aircraft training ship and one minelayer. One hundred eighty-eight U.S. aircraft were destroyed.
2,403 Americans were killed, and 1,178 others were wounded.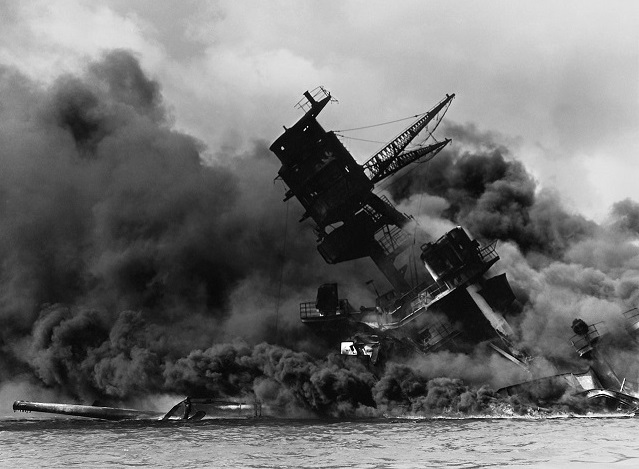 Combat Medal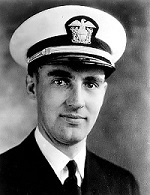 The U.S. Navy authorized the posthumous award of a combat medal to a Sailor who was present at Pearl Harbor during the Japanese attack. Secretary of the Navy Richard V. Spencer awarded the Silver Star Medal to Chaplain Lt. j.g. Aloysius H. Schmitt for gallantry in action against the enemy while serving on the battleship USS Oklahoma (BB 37). As Oklahoma was capsizing, Schmitt sacrificed his own life to assist many of his shipmates in escaping to safety.
In addition to Schmitt's Silver Star, the Secretary also awarded the Bronze Star Medal to Chief Boatswain's Mate Joseph L. George for action at while serving aboard the repair ship USS Vestal (AR 4).
Laid to Rest
Hide Caption Radioman 3rd Class Howard W. Bean, from Everett, Mass., assigned to the Battleship USS Oklahoma (BB 37) during World War II, was laid to rest in Arlington National Cemetery on December 6. Bean was previously one of nearly 400 unidentified service members who died aboard Oklahoma during the attack on Pearl Harbor. In 2015, the Defense POW/MIA Accounting Agency, through a partnership with the Department of Veterans Affairs, exhumed the remains from USS Oklahoma (BB 37), to use advances in forensic science to help identify some of the 429 Sailors killed on aboard the ship.
Coast Guard Remembrance
The Coast Guard held a remembrance ceremony on Thursday at Coast Guard Island in Alameda.
Capt. Nathan Moore, the chief of staff of Coast Guard Pacific Area, addressed Pearl Harbor survivors, World War II veterans and active-duty Coast Guardsmen who attended the ceremony. "We are here to honor the selfless sacrifice of those who lost their lives that day in 1941 and those that went on to defend the nation in World War II," said Moore. "We must maintain an alert and capable force to ensure we are ready to respond with the same courage and commitment as those who fought at Pearl Harbor."