Offshore Services Firm Diversifies Into Wind Farms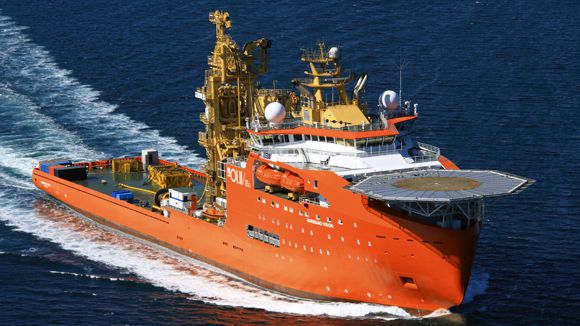 In a slow oil and gas market, most offshore companies are stacking vessels or rigs and waiting for better days to come. But Norwegian subsea specialists Ocean Installer have found a different kind of contract for their most advanced vessel, the Normand Vision.
The Vision has previously performed work on subsea umbilicals, risers and flowlines (SURF) for Statoil and Norske Shell on the Norwegian Continental Shelf. But its subsea construction support equipment is just as well suited to work on the underwater high voltage A/C power cables that connect offshore wind platforms with the power grid.
Ocean Installer's latest contract has the Vision on site at Germany's Gode Wind 1 farm, where she will work on connecting the pre-laid shore transmission cables to the farm's offshore substation.
German cable company Norddeutsche Seekabelwerke awarded the contract. Ocean Installer CEO Steinar Riise said that "we are very pleased that we are able to secure a very interesting project within the offshore renewables wind market and demonstrate our capabilities on such a project."
Other subsea construction companies – such as Singapore's EMAS – also include both SURF and wind / power cable projects within their portfolios, giving them a diverse income stream in a time of economic uncertainty and change.
Gode Wind 1, in the German sector of the North Sea, will include 55 six megawatt (MW) direct-drive turbines made by Siemens for a total output of 330 MW rated capacity. The site, funded by major wind operator DONG Energy and investor Global Infrastructure Partners, is expected to come online towards the end of 2016. The German government is providing support, and DONG will receive a fixed price for electricity for the first decade of operation.
The total cost for the Gode Wind 1 and 2 farms will come to over two billion euros, and DONG eventually hopes to build out the project to 6.5 GW.