Ørsted Acquires Offshore Wind Assets as Eversource Pursues Strategic Exit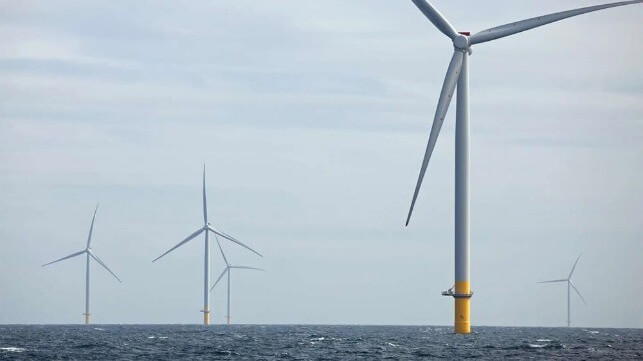 Despite its recent statements questioning the economic viability of portions of the U.S. offshore wind energy sector, Ørsted reports it closed on a previously announced acquisition of assets from Eversource Energy. In a statement detailing in acquisition, Ørsted highlights it as a step to consolidate its position in the U.S. market and as a demonstration of its long-term commitment, while Eversource Energy continues to pursue a strategy to sell assets as part of its strategic review of the offshore wind segment.
Ørsted acquired Eversource Energy's 50 percent interest in an uncontracted federal offshore wind lease area previously owned jointly by the two companies. The lease area, which includes Lease Area OCS-A 500, contains approximately 187,000 acres of seabed which is in early-stage development and has a potential capacity of up to 4 gigawatts. It is located approximately 25 miles off the coast of Massachusetts and according to the companies could be used to service key markets, including Massachusetts, Rhode Island, Connecticut, and New York.
The lease area is also significant because it is adjacent to other Ørsted leases and could be used in conjunction with other sites to create construction and operational efficiencies. According to Ørsted, the site also offers shallow water depth and favorable wind speeds compared to other sites in the U.S. and globally. They have proposed siting the Sunrise Wind 2 project for New York in this lease area, and report they are evaluating other opportunities including active offshore wind solicitations in the region.
Ørsted is also acquiring certain contracts and leases for strategic port facilities and other assets previously owned jointly by the two companies. Ørsted will take full ownership of partnerships with the Port of Providence, the Port of Davisville, and Quonset Point, all in Rhode Island, and with Connecticut's New London State Pier. Ørsted will also acquire ownership of the operations and maintenance hub in East Setauket, N.Y., and the charter agreement for the first American-built offshore wind service operations vessel, which is under construction at Edison Chouest's facility in Houma, Louisiana.
It is an all-cash transaction for $625 million completing the deal that was first announced on May 25. The U.S. Treasury Department's Committee on Foreign Investment approved the acquisition on July 27.
Eversource however is being engaged to provide services as an onshore construction manager to continue to support onshore scopes of all three projects through construction, and creating the opportunity for a Tax Equity Capital Contribution for South Fork Wind, the offshore wind farm that is already under construction to serve New York. Eversource will use a portion of the proceeds from the lease area sale to provide its anticipated tax equity investment for South Fork Wind. The contribution for Eversource's new tax equity member interest is expected to be approximately $545 million.
Eversource expects to recover this tax equity member interest investment primarily in the form of investment tax credits as turbines are placed in service for South Fork Wind. These credits will be utilized to reduce federal tax liability, including refunds expected over the next nine months. Eversource also expects to receive approximately $273 million of this contribution as a distribution from the project prior to its commercial operations date, as it currently remains a managing member of the project, along with Ørsted. Eversource's tax equity investment in South Fork Wind is expected to close in the third quarter.
Ørsted notes that securing the tax equity arrangement is a critical milestone for South Fork Wind ahead of its plan to begin operations and deliver renewable energy later this year. The company's corporate management was critical of the execution of the tax credits promised by the U.S. citing it as one of the factors changing the economics of the projects.
Eversource announced last year it was reviewing its offshore wind energy portfolio and considering whether to sell related assets. In addition to selling its uncontracted seabed and other interests, Eversource reports it has determined that it is in the best long-term interest of the company to pursue the sale of its existing 50 percent interest in its three jointly owned contracted offshore wind projects, South Fork Wind, Revolution Wind, and Sunrise Wind. Eversource reports the process is continuing to progress and it expects to announce additional details of this transaction soon.