NYK Readies New Rust Management Technology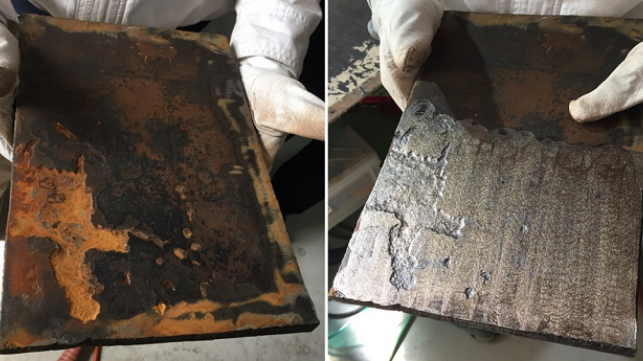 Japanese shipping company NYK has signed a memorandum of understanding with Toyokoh Inc. to develop a maritime business for Toyokoh's CoolLaser technology.
NYK aims to use the technology to reduce the maintenance workload of deck crew in managing rust and also to reduce drydocking costs by reducing the need for sandblasting.
Toyokoh has been developing the laser-based rust removal technology to remove rust from steel structures since 2008. It can remove rust quickly (even in narrow spaces), eliminate any salinity and reduce dust and waste, says NYK. The two companies will develop a device, system and measures that suit the maritime industry by studying the impact of lasers on steel material and coating adhesion, in addition to safety measures and improvements. Then a ship trial will be conducted.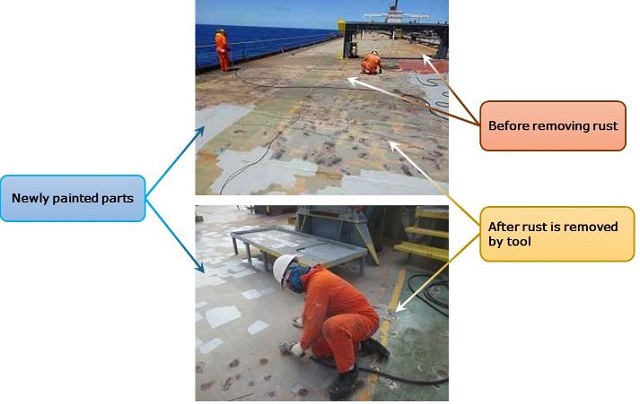 The move is part of a growing number of associations for NYK designed to further innovation. In July, ClassNK granted an Approval in Principle to NYK and Japan Marine United for their joint project on the concept design of an LNG-fueled 200K DWT bulk carrier. The design is based on a 200K DWT bulk carrier developed by JMU. Despite its added weight due to the increased amount of equipment such as its LNG-fuelled tank and LNG fuel supply system, it provides more cargo hold capacity.
In March, NYK conducted a ship-to-shore connection test for a navigation support tool designed to boost communications during emergencies at sea. The system, J-Marine NeCST, has been developed in cooperation with the Monohakobi Technology Institute and Japan Radio. For the test, a fire was presumed to have occurred on the cruise ship Asuka II operated by NYK Cruises. The two J-Marine NeCST systems, one on board Asuka II and the other at NYK's Crisis Management Center in Tokyo, were connected via the internet, the fire emergency function was activated and an emergency checklist and fire control plan were immediately shared on synchronized screens.
Last year, NYK and Norwegian Partner Dualog entered into a collaboration with the NTT Group (Nippon Telegraph and Telephone Corporation, NTT DATA Corporation), on a proof-of-concept experiment for a next generation onboard IoT platform. The collaboration began in September 2017 for an experiment focused on validation of:
• Data gathering from an expanding array of onboard sensors and monitoring equipment
• Remote distribution and management of onboard applications
• Monitoring of ship equipment, event analyses, and intelligent alerts.
NYK will use the outcome of the project to create and share an open platform throughout the maritime industry, in association with ClassNK, DNV GL, and ship machinery and equipment makers.