NYC Ferry Proves Highly Popular in its First Year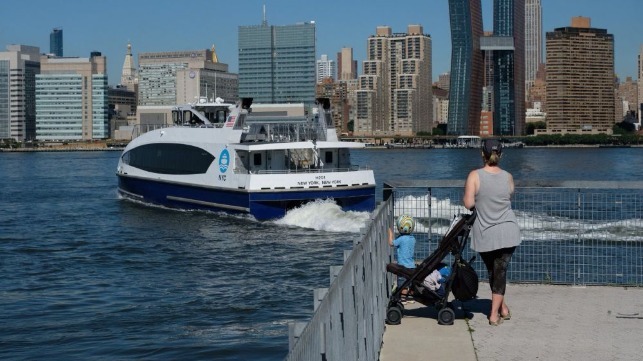 New York's new ferry service, NYC Ferry, posted 2.9 million rides across all four current routes, fully one third more than its operators expected. The New York City Economic Development Corporation and contract operator Hornblower predicted first-year ridership of 2.1 million passengers, but the system is so popular that the city is already ordering bigger boats to handle the traffic.
As of December 31, NYC Ferry had served:
- 1.6 million riders on the East River Route, which launched May 1, up 17 percent from the ridership on the previous service, the East River Ferry.
- 545,000 on the Rockaway Route, which launched May 1.
- 464,000 on the South Brooklyn Route, which launched June 1.
- 290,000 on the Astoria Route, which launched August 29.
The service overcame several challenges to post record results. It temporarily chartered in extra capacity to solve problems with overcrowding over the summer, as more commuters arrived at its terminals seeking relief from New York's troubled subway system. In addition, in October, ferry builder Horizon Shipbuilding of Bayou La Batre filed for bankruptcy, citing difficulties in breaking even on its contract. The service's other shipbuilder, Metal Shark of Franklin, Louisiana, continues to deliver new vessels.
The line also suffered two groundings, one on November 27 off Wall Street and another on December 27 in Coney Island Channel. No injuries were reported in either incident, but the ferry in the November 27 grounding was damaged when it struck submerged piles.
In addition to these issues, NYC Ferry had to address galvanic corrosion issues on its newly built vessels. USCG Warrant Officer Allyson Conroy told the NY Post that inspectors found "heavy pitting" on three ferries, and two sources informed the paper that several boats in the fleet had leaks. A spokesman for the vessel operator asserted that there were no holes in any of the boats and that "structural integrity was never compromised." Service was not disrupted by the repairs, and the work was performed at no cost to the city.