Norwegian Frigate Driven Aground Near Port of Bergen
On Thursday, salvors intentionally pushed the stricken frigate KNM Helge Ingstad onto a rocky shore near the port of Bergen, Norway, in order to prevent her from sinking in deep water.
At about 0400 hours, the Ingstad suffered a collision with the Aframax tanker Sola TS near the Sture petroleum terminal, which is located on the approaches to Bergen. The Ingstad was transiting south after the end of NATO exercise Trident Juncture 2018, and the Sola TS had just departed the terminal, escorted by a tug.
The tanker collided with the frigate's starboard side, opening a long gash in her hull and injuring eight crewmembers. Two of the casualties were evacuated to Haukeland Hospital with serious injuries.
After the collision, the frigate spilled about 10,000 liters of aviation fuel from her storage tanks, and she began to take on water. Her crew navigated her towards shore in order to prevent her from sinking in deep water and to facilitate an evacuation.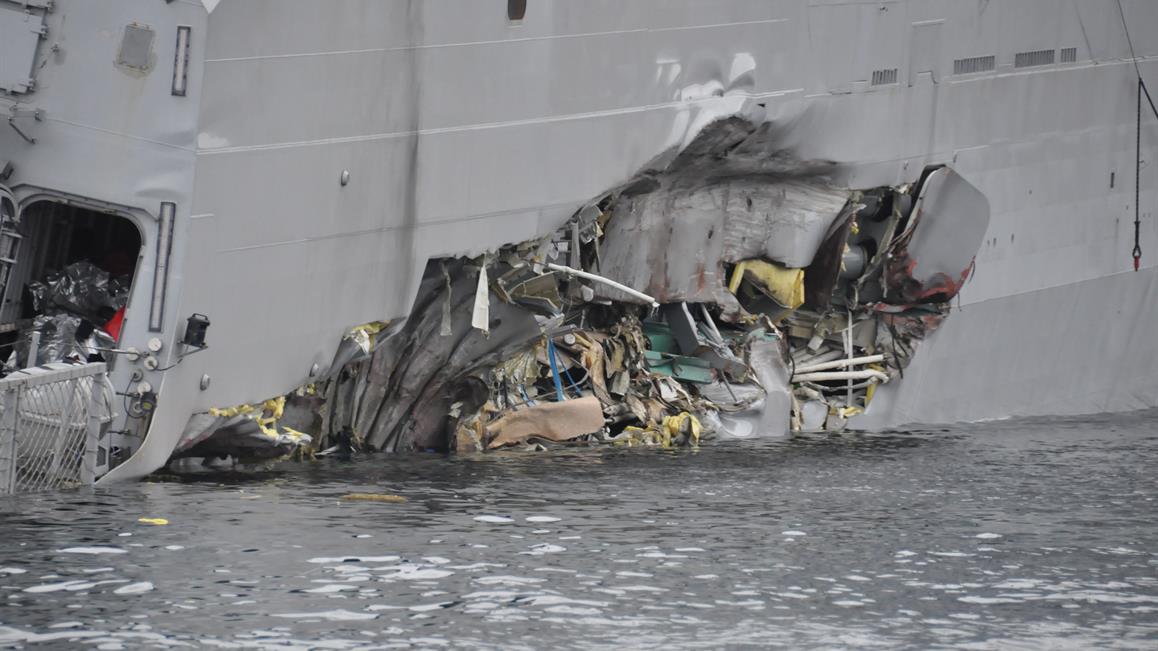 Image courtesy Forsvaret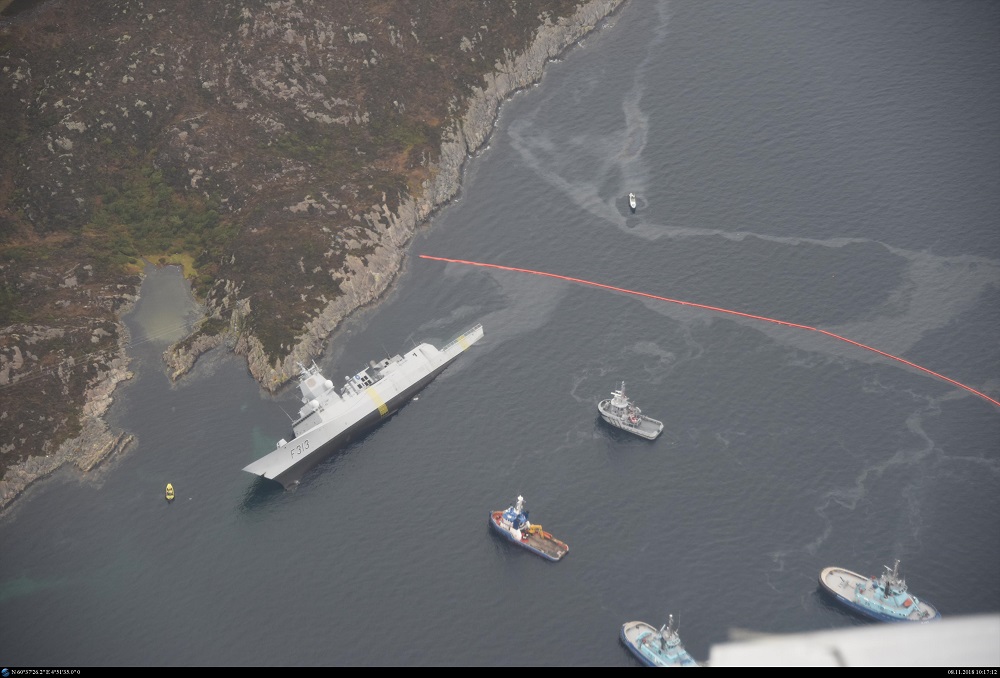 Image courtesy Forsvaret
At about 0630 hours, the Ingstad's master ordered that the crew should abandon ship using inflatable life rafts. After daybreak, commercial escort tugs pinned the frigate close to shore to ensure that she stayed in shallow waters. By afternoon, she listed and settled enough that her starboard side weather decks and her helicopter flight deck were substantially under water (image top).
An AIS-based reconstruction of the collision appears to indicate that the Ingstad's AIS transponder was not turned on prior to the incident. Her signal was not received by a monitoring station in the minutes leading up to the casualty, but was received shortly after it occurred (video below). The Norwegian Coast Guard, the Norwegian Civil Aviation Commission for Transport, the local police and the maritime administration of Malta - the tanker's flag state - have launched an investigation into the cause of the collision.
According to Norwegian state oil firm Equinor, the Sture petroleum terminal closed as a precautionary measure on Thursday morning, along with an associated processing plant. It resumed operations in the afternoon.