Norway's Experience Helps Washington Ferries Go Electric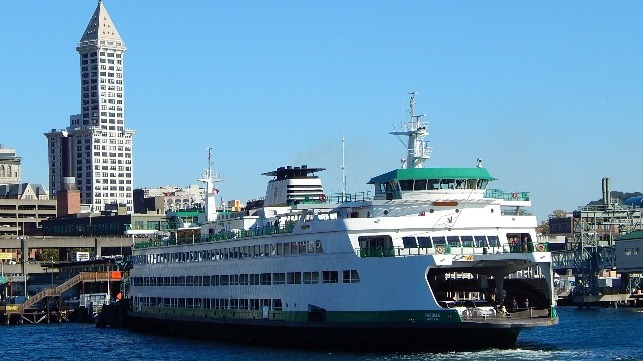 Washington State's Department of Transportation and the Washington State Ferries recently announced their intention to partially electrify the system's three largest vessels, the Jumbo Mark II class. These diesel-electric ferries will each give up two out of four engines to make room for 100 tons of batteries, and the first conversion could be traveling between Bainbridge and Seattle in just two years' time.
The project is a component of Washington Governor Jay Inslee's new "Washington Maritime Blue" project, a collaborative forum for private firms, labor organizations, agencies, tech companies and educators to work together to green - and promote - the state's maritime industry. This forum is similar to Norway's Green Coastal Shipping Program, a "maritime cluster" initiative launched by DNV GL in 2015. The resemblance isn't accidental, since DNV GL is spearheading the Washington Maritime Blue program as well.
Roger Millar, the state Secretary of Transportation, told the Seattle Times that Norway's experience with hybrid and all-electric ferries was a starting point for the WSF project. DNV GL recently brought representatives from the Norwegian Maritime Authority, Norway's Maritime CleanTech cluster, the Norwegian Embassy and the Confederation of Norwegian Enterprises to meet with Washington State officials aboard the Tacoma, one of the three ships slated for conversion, and DNV GL's engineers shared their experience in maritime battery technology and shoreside charging, including "microgrid" charging stations with onshore battery storage systems. Shore power is not a component of the first phase of the ferry conversion, but may well be part of future upgrades.
The cost of the WSF project is estimated in the range of $30 million per vessel, and Washington's share of the Volkswagen NOx fund may contribute to covering the expense. As part of a settlement agreement with the federal government, Volkswagen has set up a $2.7 billion mitigation trust fund to offset the environmental impact of diesel-powered vehicles it sold in the U.S. with non-compliant NOx emissions controls. Replacing older diesel engines is among the most cost-effective options for reducing NOx emissions, and multiple ports and vessel operators may ultimately benefit from the settlement funds.
According to Millar, the investment will cover its own costs. "We're anticipating that that hybrid conversion is going to pay for itself in the fuel saved," Millar said in a statement. "It's going to reduce our greenhouse gas emissions by about a third, and it paves the way to converting the rest of our fleet to either a hybrid technology or an all-electric technology."