North Korea Flouts UN Sanctions on Oil, Coal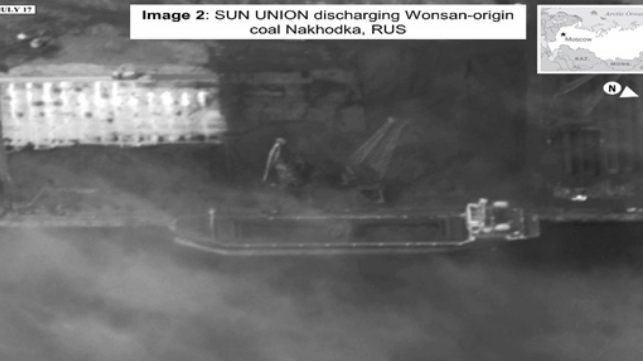 North Korea appears to have succeeded in circumventing UN sanctions on its petroleum and coal trade, according to a recent report to the UN Security Council and an investigation by Radio Free Asia.
The UN has placed strict limits on North Korean imports of petroleum products and exports of coal, among other commodities, in an effort to penalize Pyongyang for its nuclear weapons program. However, North Korean product tankers have developed methods for conducting high-seas ship-to-ship transfers while evading detection and enforcement, and the United States assesses that they succeeded in loading up to three times the UN's annual limit in the first half of the year alone.
In addition, the U.S.-funded outlet Radio Free Asia has published a detailed account of the North Korean effort to rebrand its coal as "Russian" and ship it to buyers throughout the Asia-Pacific. According to RFA's source, North Korean coal is loaded at Chonjin and Wonsan, then shipped to Vladivostok or Nakhodka, Russia, as confirmed in previous accounts by the U.S. Treasury. Once it has arrived at a Russian port, local company officials create false documents that declare that the coal is from Russia, charging a fee of $2 per ton for the service. With this disguise, the coal can be shipped onwards to buyers in other countries. One North Korean trader described a three-part transaction in which foreign buyers have involvement prior to and during the sanctions-evasion process.
North Korean defector Hong Song-won, who ran a coal mine before he escaped to South Korea in 2008, told Chosun Ilbo that coal is a key source of foreign income for the North's military. "If coal exports stop, foreign-currency revenues will dry up and the coal mines will close," he said.
On Saturday, South Korean media reported that the Belize-flagged bulker Jin Long arrived at the port of Pohang, carrying coal that may have been mined in North Korea. Shipping sources confirmed its origin in comments to media, but South Korea's Ministry of Foreign Affairs denied that there was any evidence that sanctions had been violated. The vessel departed shortly after reports of its presence.