Nigeria Holds Bulker and Crew After Finding Cocaine Hidden in its Cargo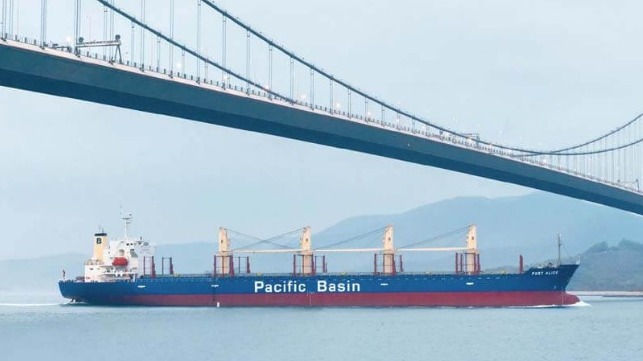 A Nigerian court has ordered a bulker and its crew detained until at least mid-August while the country's drug authority continues its investigation after cocaine was found hidden aboard the vessel arriving from South America. The National Drug Law Enforcement Agency (NDLEA) told the Federal Court that it requires additional time to carry out the investigation due to the complexity of the case and to establish the extent of culpability or innocence of the crew.
NDLEA told the court that it was acting on information received from its international partners, including INTERPOL, that there was a large consignment of cocaine aboard the vessel. They began tracking the Cooper Island (57,964 dwt), a Supramax bulker owned by Pacific Basin and registered in Hong Kong. The vessel had departed Santos, Brazil on June 19 loaded with sugar bound for Nigeria.
After the vessel docked at the Tin Can Island Seaport in Lagos, Nigeria on July 5, the authorities boarded the ship to conduct their investigation. With the assistance of the Nigerian Navy, port security, and law enforcement, NDLEA said it discovered 24 kilos of cocaine hidden with the sugar shipment.
The master of the vessel and 19 other crew members have been arrested and are now detained in Nigeria while the authorities work to determine if they were involved in the smuggling operation.
NDLEA told the court it was "necessary to prevent the escape of the vessel and its crewmembers during the investigation and possible prosecution of the case." They reported that they are continuing to work with INTERPOL to investigate the cocaine smuggling. The judge agreed and adjourned the case till August 17.
It is not the first time NDLEA has sought to hold a vessel and prosecute members of its crew for alleged involvement in drug smuggling. In October 2021, Nigerian authorities seized a Singapore-flagged bulker, the Chayanee Nareev (56,547 dwt) in a similar set of circumstances. Working with the UK Border Force the vessel had been identified as smuggling cocaine from Santos to Nigeria. When it arrived in port, a search found 32.9 kilos of cocaine.
Precious Shipping of Thailand which operates the vessel reported an ongoing prosecution. The Nigerians initially agreed in January 2022 to release the vessel and 19 crewmembers while accusing three crewmembers of being involved in the smuggling. That was later revised to charge 10 crewmembers with involvement in the smuggling. The vessel was released in May 2022 with 12 of its crewmembers. The other 10 remained charged with drug trafficking.