New Tariffs on Chinese Goods Could Affect U.S. Ports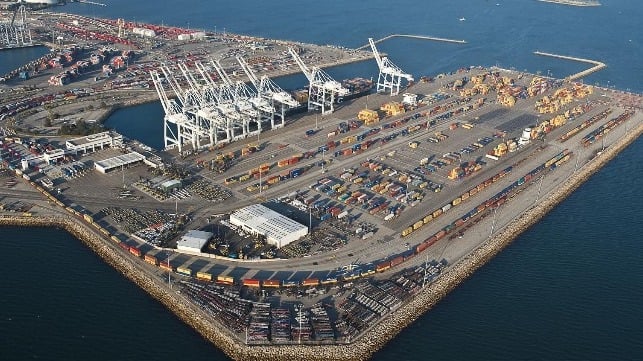 On Thursday, U.S. President Donald Trump doubled down on his recently announced tariffs for steel and aluminum imports with a new set of tariffs on Chinese tech products. The new measures could have implications for America's big container ports, which handle hundreds of billions of dollars in trade with Asia every year.
The new tariffs will target $50-60 billion worth of Chinese products, or roughly 10 percent of the total value of U.S. imports from China in 2017. The tariffs will be focused on the tech sectors that have suffered the most from what the administration describes as China's anti-competitive trade practices and theft of intellectual property. The administration will announce the details of the specific goods affected within 30 days.
Trump's decision drew support from across the aisle. Senate minority leader Sen. Chuck Schumer (D-NY) agreed with the administration's conclusion that China is stealing U.S. intellectual property, and said that America should "make sure that China starts playing by the rules."
However, several U.S. business associations are concerned that tariffs could directly affect their members' supply chains and would reduce consumer purchasing power. In addition, analysts expect that the tariffs could have an indirect effect on U.S. exporters in the form of retaliatory Chinese trade restrictions - the first shots in what could become a broader trade war. U.S. agricultural exports could be particularly vulnerable, according to U.S. Trade Representative Robert Lighthizer. The Dow fell 700 points Thursday on concerns that new barriers to trade could hurt American businesses.
The National Association of Manufacturers said that it welcomes Trump's focus on unfair trade practices, but CEO Jay Timmons warned against the use of tariffs. "Tariffs are one proposed response, but they are likely to create new challenges in the form of significant added costs for manufacturers and American consumers. In addition to these challenges, tariffs also run the risk of provoking China to take further destructive actions against American manufacturing workers," Timmons said in a statement. "The only way we'll truly make lasting progress is through . . . a fair, binding and enforceable trade agreement with China that requires them to end these practices once and for all."
The National Retail Federation also called for restraint, noting that tariffs raise the prices that U.S. consumers pay for imported goods. "Holding China accountable for refusing to follow global trading rules is important and necessary, but instead, the tariffs proposed by the administration will punish ordinary Americans for China's violations," said NRF CEO Matthew Shay. "We urge the administration to reconsider and instead work with our trading partners to enforce the rules and advance targeted trade remedies."
Chinese officials have suggested that retaliatory trade measures are likely. "China will never sit idly and let its lawful rights and interests be undermined and will surely take all necessary measures to firmly safeguard its legitimate rights and interests," said Chinese Foreign Ministry spokesperson Hua Chunying at a press briefing Thursday. "We hope that the U.S. can be fully aware of the mutually beneficial and win-win nature of China-U.S. economic and trade relations and refrain from moves that will hurt both itself and others."