New Method for Landing Jets on HMS Queen Elizabeth Trialed
A new method for landing an F-35 Lightning fighter jet on a ship has been carried out for the first time on board the U.K.'s new aircraft carrier HMS Queen Elizabeth.
The first rolling vertical landing was undertaken by test pilot Peter Wilson on the weekend. Previously the jets have only conducted vertical landings, hovering by the side of the ship before moving sideways over the deck and gently lowering down. A rolling landing however requires the jet to make a more conventional landing approach, approaching the ship from behind at speed, before using thrust from its nozzle and lift created by air over the wings to touch down and gently come to a stop.
The maneuver, which will allow jets to land on board the carrier with heavier loads, means they won't need to jettison expensive fuel and weapons before landing.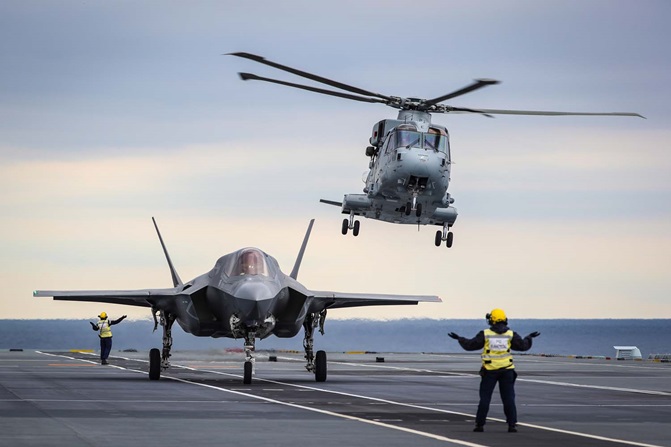 A Merlin Mk4 From 845 Naval Air Squadron takes off in the SAR role as UK test pilot Peter Wilson, prepares to take off to conduct the worlds first rolling vertical landing.
Wilson, a test pilot from BAE Systems, worked with the Royal Navy's Lieutenant Christopher Mould who acted as the ship's Landing Safety Officer. Prior to the undertaking, Wilson conducted over 2,000 landings on a simulator.
Another test pilot on board was Major Michael Lippert of the U.S. Marine Corps. He said America was watching this part of the trials on board Britain's carrier particularly closely. The Corps, which also flies the F-35B variant used by HMS Queen Elizabeth, will join the ship when she deploys operationally for the first time in 2021. Lippert is anticipated to conduct the first rolling vertical landing at sea for the U.S. military.
HMS Queen Elizabeth continues her flying trials – on a deployment called Westlant 18 – along with her escort ships HMS Monmouth and U.S. destroyer USS Lassen. More than 1,400 sailors, flight crew and Royal Marines have been working on board the carrier during her deployment.
HMS Queen Elizabeth is on track to deploy on global operations from 2021. The U.K. has now taken delivery of 16 out of a planned 138 F-35 jets. HMS Prince of Wales, the second aircraft carrier in the class, nears completion at the Rosyth shipbuilding yard. The vessels will be used to provide humanitarian assistance and disaster relief, strengthen defense relationships and support British armed forces deployed around the world.