New Mein Schiff 2 Floated Out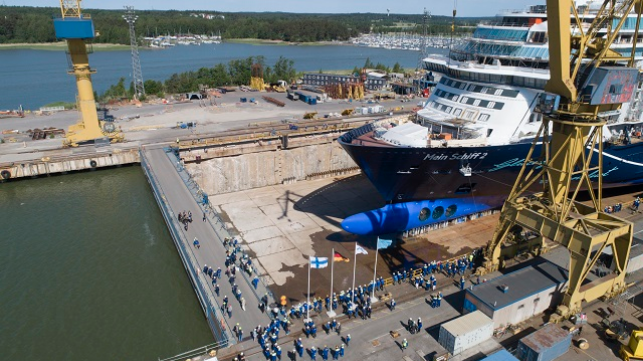 A month after the successful delivery of new Mein Schiff 1, the next ship in line, new Mein Schiff 2, was floated out at Meyer Turku shipyard on Friday. She will be a sixth ship build by Meyer Turku for German TUI Cruises and is expected to be delivered early next year.
Mein Schiff 2 will be a sister ship to Mein Schiff 1, with added length of 20 meters from the previous ships in the series. TUI Cruises and Meyer Turku have also agreed to build Mein Schiff 7 with delivery in 2023. The new vessel will be based on the design of the Mein Schiff 1 and Mein Schiff 2.
TUI Group's fleet currently comprises 15 cruise ships, operated by its subsidiaries TUI Cruises, Hapag-Lloyd Cruises and Marella Cruises.
The timetable for the construction of the ship demonstrates how Meyer Turku has been ramping up the production volume to meet the increasing demands from the order book. "Our block production capacity is already up on the level with previous high from 2010, when the shipyard was building Allure of the Seas. Ramping up the production at the same time as we are implementing an investment program of 200 million euros has not been a simple task. Still, as the saying at the shipyard says, if it was simple, anybody could do it and that would not be good either," said CEO of Meyer Turku Jan Meyer.
Mein Schiff 2
Length: 315m
Width: 36m
Gross Tonnage: 111,500
Passengers: 3,132
Cabins: 1,437
Crew: 1,092
Flag: Malta