More Money Allocated to USS Fitzgerald Repairs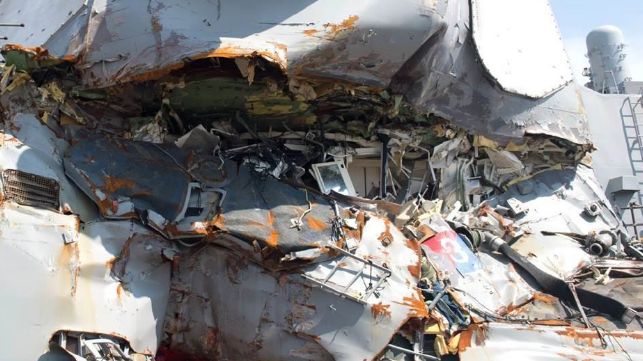 The U.S. Department of Defense pay Ingalls Shipbuilding $27,469,298 for additional collision repairs as well as maintenance and modernization of USS Fitzgerald (DDG 62).
Contract details released on July 2 state: "Work will be performed in Pascagoula, Mississippi, and is expected to be completed by January 2020. Fiscal 2018 operations and maintenance (Navy); and fiscal 2017 other procurement (Navy) funding in the amount of $20,621,275 will be obligated at time of award, and $19,981,782 will expire at the end of the current fiscal year."
In the early hours of June 17, 2017, the USS Fitzgerald collided with the container ship ACX Crystal southwest of Tokyo Bay. The ACX Crystal struck her amidships on the starboard side, crushing the commanding officer's cabin and creating a 12-foot by 17-foot hole below the waterline, leading to rapid flooding in a machinery space and a berthing area below. Seven sailors were killed and three were injured, including the commanding officer.
The USS Fitzgerald's collision with ACX Crystal badly damaged her radar array, and the flooding that followed destroyed a significant proportion of her advanced electronics and equipment. The repairs will cover her electronic warfare suite, radar, switchboard, gas turbine generator and air condition plant. USS Fitzgerald will also receive an array of mechanical, combat system and comms upgrades that were originally planned for installation during FY2019. The Navy anticipates that the entire restoration and modernization effort will take two years, including more than a year of drydock time.
The USS Fitzgerald arrived at the Huntington Ingalls Pascagoula shipyard in January.