May's Government Turns Down Brexit Customs Plan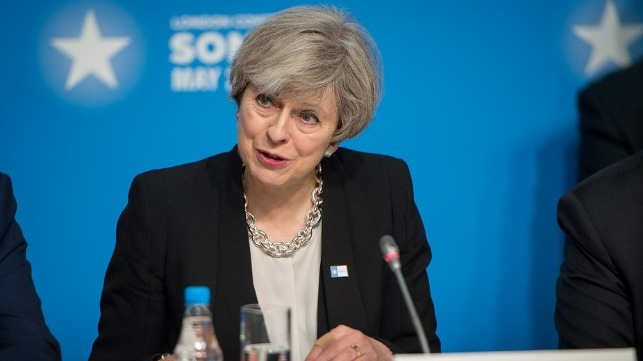 The cabinet of UK Prime Minister Theresa May has rejected her preferred option for Britain's post-Brexit customs relationship with the EU, according to sources familiar with the discussions. The details of the UK's exit from the EU customs union have significant implications for British ports - especially the busy ro/ro passenger ports at Dover and Holyhead.
In a close vote, home secretary Sajid Javid is said to have joined pro-Brexit ministers to turn down an option that would see Britain collect EU customs tariffs on behalf of Brussels, a "customs partnership" that would allow UK businesses to keep low-friction trade with Europe and allow the EU to keep revenue from import cargoes. Instead, the pro-Brexit faction has proposed to exit the customs union, then use technology and "maximum facilitation" policies to streamline border checks between the EU and Britain.
May's office maintains that both alternatives are still on the table, and she has asked her advisors to come up with "revised proposals." Her Brexit secretary, David Davis, said that ministers "are taking more time" to review the merits of the alternatives.
Brussels' Brexit negotiators have rejected both options.
Serious implications for ferry ports
The UK's maritime industry has called for Prime Minister May's government to reach an agreement on EU trade in the post-Brexit era or risk serious problems at UK's ports. In March, the UK and EU reached a crucial deal for a transition period in which Britain will remain within the common market and customs union; however, May will still have to negotiate a policy for customs after the transition ends.
"Our biggest concerns are Dover and Holyhead. There will be new customs requirements that could cause particular challenges for roll-on roll-off ferry ports which handle tens of thousands of [trucks] travelling between the UK and the EU each day," warned Maritime UK head David Dingle in February.
The status of Northern Ireland, a province of Britain, is a key sticking point in EU-UK negotiations over trade. Both sides would prefer not to impose customs checks at the border between Northern Ireland and Ireland, which was a militarized zone during the 30-year conflict between the IRA and British security forces. Under a "backstop" deal, Northern Ireland would continue to use EU customs regulations, which could effectively create a border between two parts of the UK.