Lindblad Expeditions Orders New Polar Vessel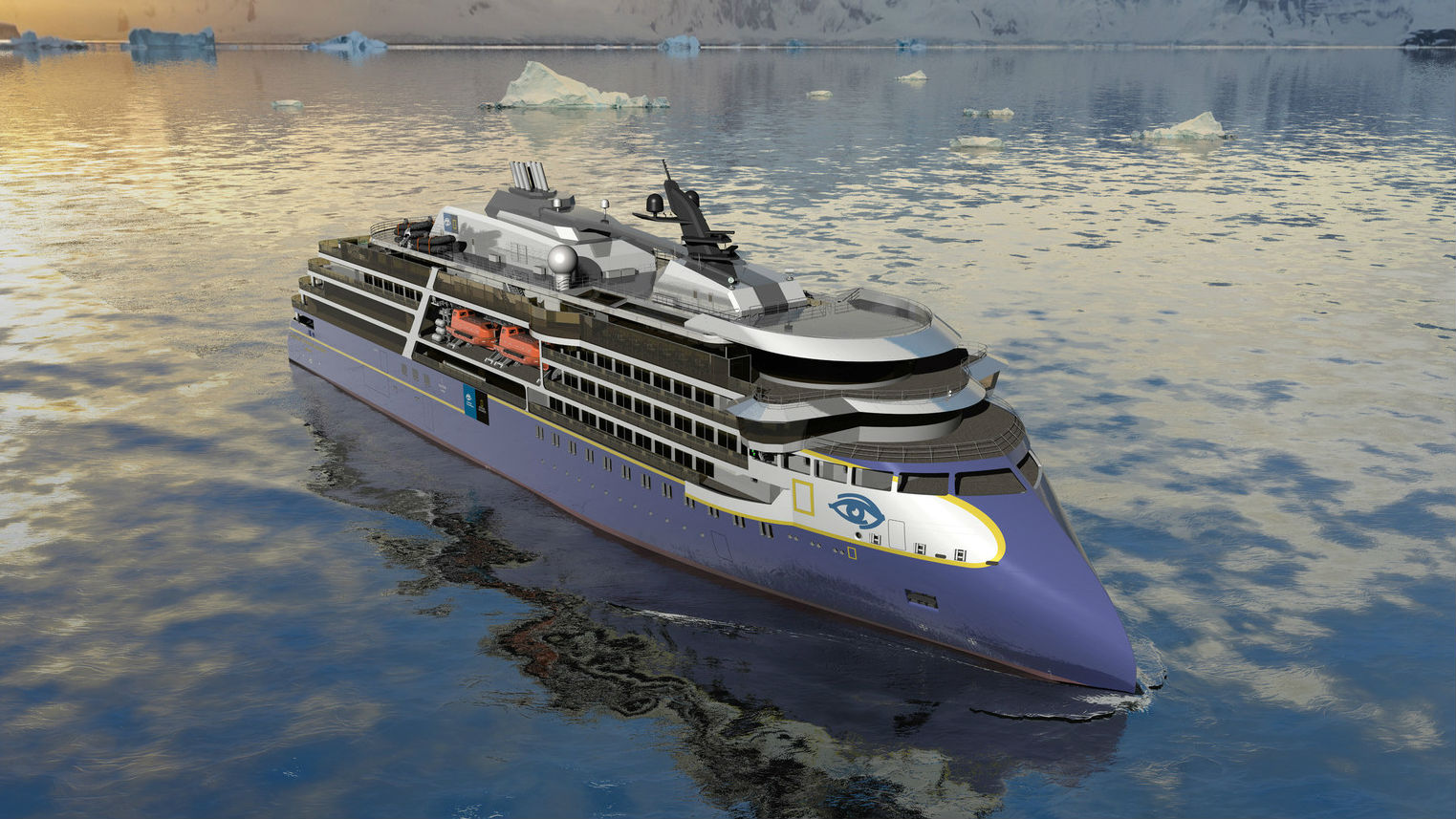 Lindblad Expeditions has signed an agreement with Norwegian shipbuilder Ulstein to build a new expedition cruise ship. The vessel will join the National Geographic Explorer and National Geographic Orion as the third ice class ship in the Lindblad National Geographic fleet.
The new vessel will be built in Ulsteinvik, Norway, and is scheduled for delivery in the first quarter of 2020, with an option for two additional ships to be delivered in subsequent years.
The vessel will feature Ulstein's signature X-BOW, a distinctive bow that provides fuel efficiency while significantly improving guest comfort in rough seas. She will also be built to a high ice class for access deep into polar regions. The ship's expanded fuel and water tanks will provide for extended operations in remote areas, while the zero-speed stabilizers will ensure stability whether underway, at zero speed when stopped for wildlife observation, or embarking/disembarking the ship.
In keeping with the Lindblad Expeditions-National Geographic ethos to connect guests with the environment being explored, the ship will be designed to access the outside environment from anywhere on the ship - 75 percent of the cabins will have balconies, there will be multiple observation decks inside and outside and new observation wings.
The ship's complement of expedition tools for exploration will include Zodiacs, kayaks, cross-country skis, a remotely operated vehicle, hydrophones, a video microscope, underwater video cameras and a helicopter landing platform.
Sven-Olof Lindblad, President and CEO, said: "Lindblad's strategic investment to expand our capacity to capitalize on the rapidly growing demand for expedition travel has begun to deliver significant returns. Bookings in 2017 are up over 30 percent versus a year ago, and the company delivered strong third quarter financial growth fueled by the July launch of our first new-build vessel, the National Geographic Quest, while at the same time maintaining high occupancy levels across our existing fleet."
The National Geographic Quest, which sailed in Alaska and British Columbia during the summer before voyaging to Costa Rica and Panama for the winter season. The company's second new-build coastal vessel, the National Geographic Venture, is currently expected to launch in the fourth quarter of 2018.
The launch of the new ship in 2020 will mark the 50th anniversary year of the first purpose-built expedition ship, Lindblad Explorer, built by Lindblad's father Lars-Eric Lindblad.