Leadership, External Help Critical to Ro-Ro Fire Control
Over 500 fires have occurred on large ships in Europe over the past 15 years, about a quarter of them on passenger vessels.
A newly-published risk assessment, produced by the Finnish Border Guard and Finnish Transport Safety Agency and produced for use in the Baltic Sea Maritime Incident Response Group project, states that Ro-Ro ships pose the highest risk of ship fires in Europe.
On Ro-Ro vessels, fires are very often caused by electrical short-circuits of equipment on the vehicle decks. This is also a common cause of fires on Ro-Pax vessels. Due to the high density of cars on the vehicle decks, firefighting is a challenge.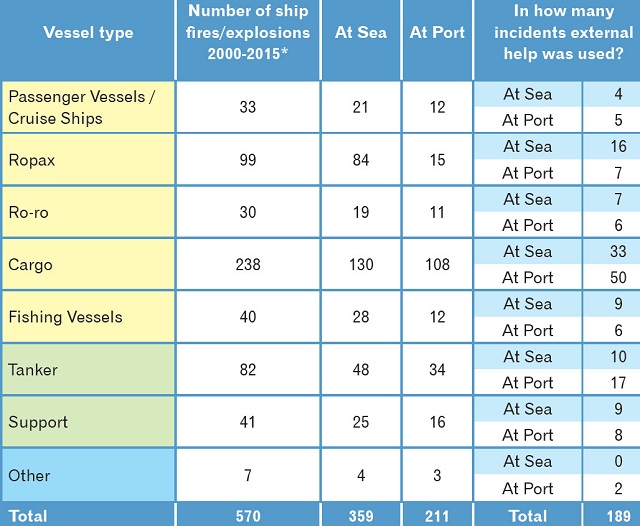 This may increase the need for external help, and nearly half of the Ro-Ro fires that occurred relied on external help.
External help often plays a decisive role in assessing the situation and ensuring that the correct follow-up measures are taken when a fire occurs, states the report. The level of skills and operational capabilities of the crews of commercial vessels varied greatly in the incidents analyzed, even though in all cases the crews and their training were in line with STCW requirements. On smaller cargo ships, in particular, there were clear shortcomings in operations, whereas the crews of larger passenger vessels were more efficient. This is largely due to the fact that passenger vessel crews are generally better trained, their turnover is lower and they hold more fire drills.
However, the report also found that the operating models of the vessels had not sufficiently prepared for eventualities in which individual key persons (for instance, the firemaster of the ship) became suddenly unable to perform their duties (such as due to an accident or illness). The unexpected absence of a key person leads to the greatest shortcomings particularly in terms of coordinating operations and achieving situational awareness.
For this reason, the report recommends that emergency operating models and division of work on ships should be developed to ensure that the unexpected absence of any individual will not paralyze operations in the event of a fire or other such incident. The report also notes that very few senior officers on vessels know how to use external help efficiently.
Compliance with fire safety regulations does not guarantee that a vessel is safe, the report says, but it is a good starting point for safe operations. According to researchers from the Finnish Safety Investigation Authority, attitude plays a key role in fire prevention. This can often be seen in the thorough performance of basic procedures, such as keeping areas clean and tidy and maintaining equipment in proper working order.
However, preventing fires can be difficult, as there are such a wide range of potential causes, from electrical faults to a variety of human activities. It is therefore impossible to prepare for all eventualities. This is why specific causes of fire are not always significant with regard to the overall safety of a vessel. Instead, it is often easier to influence the prompt detection of fires and their effective extinguishment. These factors therefore play a key role in minimizing fire damage aboard vessels.
In an examination of ship fires over the period 2004–2014, the report says a slight rise can be detected. Ship fires have increased among, for example, general cargo ships, ro-ro passenger ships and cruise ships.
Many passengers and crew members have died in ship fires in European sea areas. The most serious of these have been on Ro-Ro passenger ships. The worst accident in recent history occurred in 1990, when 159 people were killed in a ship fire on board the Scandinavian Star. More recently, in December 2014, 11 people were killed and several injured in a fire on board the Ro-Pax Norman Atlantic. In 2010, 28 people were injured in a fire on board the Ro-Pax Lisco Gloria.
"This is a thorough and comprehensive insight into the impact of fires on shipping in Europe and highlights the need for the work being done by the Finnish Border Guard with the Baltic Baltic Sea Maritime Incident Response Group project," said International Maritime Rescue Federation CEO, Bruce Reid.
"Even though there has only been a slight rise in ship fires between 2004 and 2014, there is no room for complacency. We have a great interest in seeing how SAR response to ship fires can be improved particularly in the context of Maritime Mass Rescue Operations"
The report is available here.