Last Migrant Rescue Vessel in Central Med Ceases Operations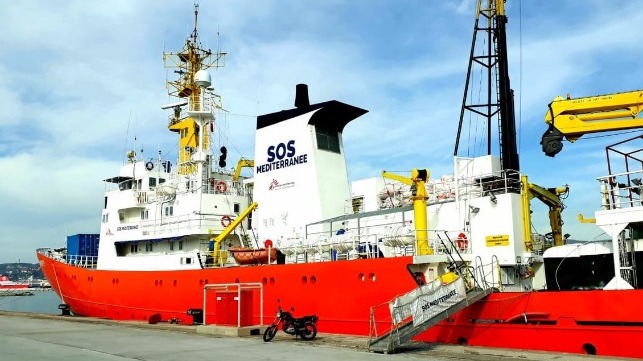 SOS Mediterranee and Medecins Sans Frontieres have been forced to end their charter for the Aquarius, the last NGO-operated migrant rescue vessel in the Mediterranean. Under intense pressure from Italian authorities, the ship lost two successive flag state registrations and faced Italian charges alleging miscategorized solid waste disposal.
"This is the result of a sustained campaign, spearheaded by the Italian government and backed by other European states, to delegitimise, slander and obstruct aid organisations providing assistance to vulnerable people," said Medecines Sans Frontieries in a statement. "Amid these smear campaigns and maneuvers to undermine international law, people rescued at sea have been denied access to safe ports, refused assistance from other ships and left stranded at sea for weeks at a time."
Italian interior minister Matteo Salvini, a staunch opponent of African immigration, expressed a different view. "Fewer departures, fewer landings, less deaths. Good," he wrote in a social media update.
The Aquarius' mission is over, but SOS Mediterranee plans to resume operations with another vessel, if one can be found. According to Beau, the group has received "strong signs of solidarity from the maritime world" for its search and rescue operations. "Saving lives at sea is and will remain our mission and, today more than ever, we need the support of all citizens who still believe in our values ??of humanity at sea and wish to contribute to our efforts to find a new ship and a new flag," said Beau in a statement.
Effects on shipping
With fewer rescue vessels, more of the work of search and rescue falls to the Libyan Coast Guard and to merchant shipping. But in a statement, MSF head of emergencies Karline Kleijer alleged that certain states have created "a climate that discourages all ships at sea from carrying out their obligations to rescue those in distress."
Merchant vessels that rescue migrants in the Central Mediterranean currently face challenges in offloading the rescuees and resuming their voyages, and may be subject to long delays. Italy no longer accepts vessels with rescued migrants on board, and insists that survivors should be returned to Libya; but rescuees have in some instances refused to disembark in Libya, where they are likely to face abuse. The UN does not classify the nation as a "safe" destination for survivors.