Korean Shipbuilders Retake Top Spot Overtaking China with LNG Orders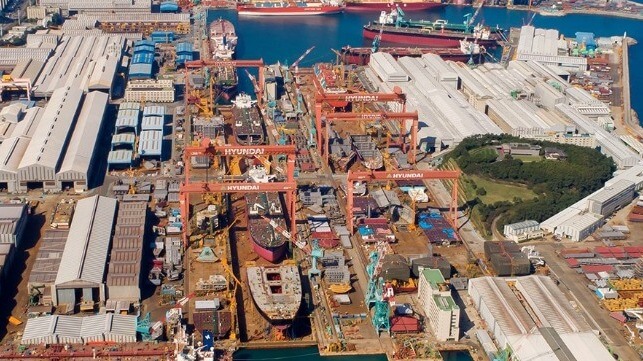 South Korea's shipbuilding industry has once again edged out its Chinese rivals to gain the top spot for new orders despite analysts questioning if the shipbuilding industry peaked in 2022 and is entering a new decline. South Korea and China have been locked in a battle for industry dominance with Korean officials saying they believe the industry future is in eco-friendly technology and automation while they believe China's advantage remains in price and volume.
For the first time in five months, South Korea won the largest share of new orders according to the July market analysis from Clarkson Research Service. The London-based firm calculates that the South Korean industry won 44 percent of the new orders in July versus the 34 percent awarded to Chinese shipbuilders. Korea won orders for 29 vessels last month giving it 1.46 million compensated gross tons out of a total of 3.33 million CGT Clarkson reports was ordered in July. China received orders for more ships, 48, but totaled only 1.13 million CGT.
South Korea last had the leadership in new orders in February 2023. Despite again edging out the Chinese industry, South Korea's overall orderbook remains second to China in total size. China holds 47 percent of the global total of 117.77 million GT, with orders for 55.35 million tons. The South Korean industry has a backlog of 39.26 million tons, which accounts for a third of the global orderbook.
Both countries reported that their orders were up despite the overall global slowdown in shipbuilding orders versus the record pace of 2021 and 2022. China continues to receive orders for bulkers and containerships, while South Korea highlights its leadership with gas carriers and dual-fuel vessels. South Korea's shipbuilders currently have three-quarters of all the orders for new LNG carriers or a total of 255 vessels.
Industry observers are speculating that South Korea will also book a major order from Qatar tied to building slots reserved in 2020 for LNG carriers. As early as September, the rumor is that the three big shipbuilders, HD Hyundai Heavy Industries, Hanwha Ocean, and Samsung Heavy Industries, could together book orders for more than $9 billion for as many as 40 ships tied to Qatar's LNG expansion program. South Korean analysts are also pointing to the new LNG export terminals approved in the United States and the growth of international LNG imports by ships saying this will have a positive effect on shipbuilding.
Despite the positive indicators, analysts at Japan's Nomura Securities in a recent report speculated that the global shipping industry and specifically orders for HD Hyundai had peaked in 2022. They forecast an overall decline of at least 20 percent in new orders saying that they did not believe the recent surge in tanker orders could help offset the declines in the other sectors for the Korean shipbuilders. Clarkson in its July report said orders were down by a quarter in 2023 versus 2022.
Speaking with the Korean media, industry executives said they agreed that overall orders would be down in 2023 and 2024 versus the peaks of 2022. HD Hyundai however disputed Nomura's forecast noting that it had booked nearly $7.3 billion in orders this year similar to its orders in the same period last year.
The Korean shipbuilding industry highlights its shipbuilding capacity is booked for the next three-and-a-half years. The expectation is that the push for decarbonization and the introduction of new technologies will drive future orders. To meet that anticipated demand Korea continues to invest in the development of these future technologies.