Kon-Tiki2 Raft Expedition Rescued by Bulker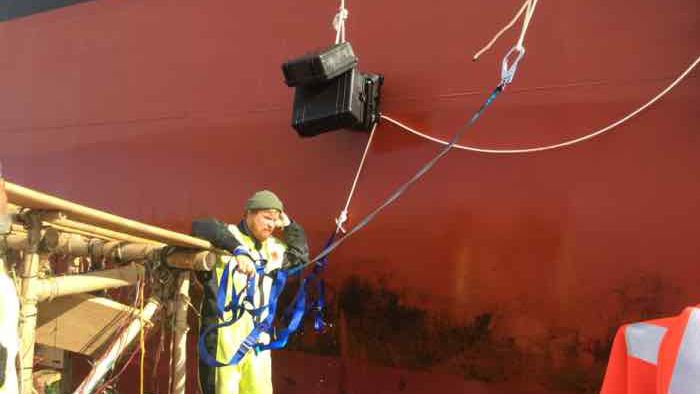 The crewmembers of the Kon-Tiki2 balsa raft expedition were rescued Friday by the wood-chip bulker Hokuetsu Ushaka. After 114 days and 4500 nautical miles in the south-east Pacific, they elected to end their voyage in rescue, due to a slower than expected rate of travel and a foul weather forecast ahead. The expedition requested assistance from the Chilean Navy, which coordinated a rendezvous with the Ushaka.
The raft crew removed their equipment and dismantled their rafts, Tupac Yapanqui and Rahiti, before departing.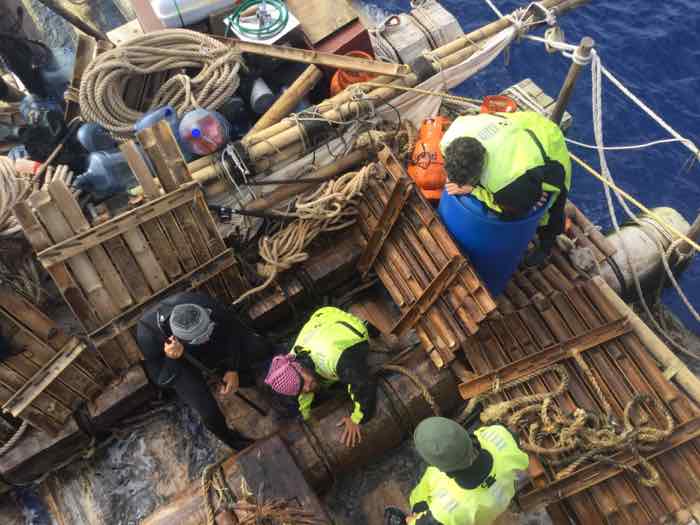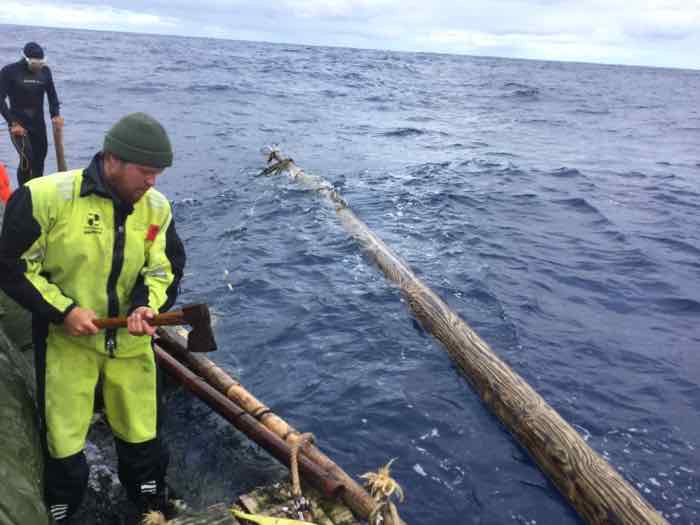 The goal of the expedition was to show that balsa rafts could sail from South America to Easter Island and back. The expedition reached Easter Island after 43 days at sea, but the return voyage proved more difficult due to what the organization described as atypical winds.
"In a normal year, we would have reached South America by now. Instead, we are still 900 nautical miles from land and the weather forecasts are not promising. The crew is at good health and spirit, and there is no emergency situation," said expedition leader Torgeir Higraff. "Needless to say, it is sad to end the expedition without reaching South America."
The rafts left Lima, Peru on November 7, 2015, and arrived on Easter Island just before Christmas. On January 6, 2016, they started the return voyage.
"We have made good progress . . . but this is an El Niño year and the weather patterns we have encountered have been atypical. We realize that reaching South America will take too long and we prefer to evacuate to ensure safety for all," said Higraff.
The rafts were also equipped as data-gathering platforms for climate and oceanographic research. "From a scientific point of view, it has been particularly interesting that the expedition took place in one of the strongest El Niño years recorded, even if El Niño now contributes to the termination of the expedition," said Cecilie Mauritzen, the expedition's chief scientist.
The expedition had encountered gale-force weather earlier in their journey, resulting in damage to the rafts and water infiltration reaching some stores, including one raft's supply of flour.