Japan Reports More Sanctions-Busting in East China Sea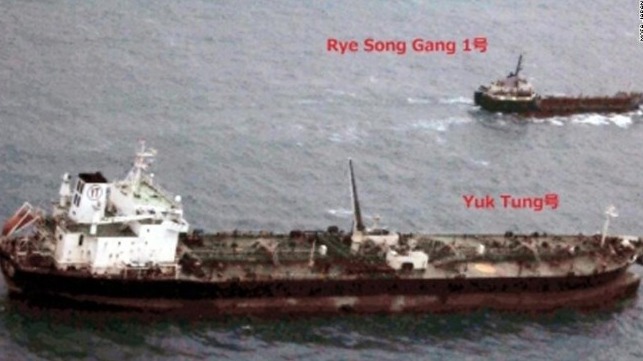 On Wednesday, Japan's defense ministry reported another suspected ship-to-ship petroleum transfer involving a North Korean vessel in the East China Sea. Under United Nations Security Council sanctions on North Korea over its nuclear program, trading of petroleum products and other commodities with North Korean entities is forbidden (outside of specific limits).
Japanese forces spotted the blacklisted North Korean tanker Yu Phyong 5 alongside an unknown vessel on June 21 at a position about 215 nm off Shanghai. On June 22, the same tanker was observed alongside another, similar vessel near the same location. Japan's Maritime Self-Defense Force could not determine whether the second vessel was identical in both instances, but in both cases, Japanese personnel observed hoses connecting the two ships. The evidence leads Japan to suspect an illicit high-seas fuel transfer.
The waters of the East China Sea off Shanghai have been a high-activity area for sanctions-busting fuel transfers over the past year, and Japan's patrol aircraft have observed multiple instances of smuggling in the region. The activity is more difficult to detect than foreign shipments arriving directly in North Korean ports. American and Japanese naval forces do not have UN authorization to interdict and board the vessels involved on the high seas, but may report the activity to the UN and to the flag states of the vessels involved.
Previously observed activity included rendezvous between the North Korean tanker Chon Ma San and the Hong Kong-owned tanker Xin Yuan 18; the North Korean tanker Yu Jong 2 and the suspected Chinese vessel Fujian Province Ningde City Oil Tanker 078; the North Korean tanker Rye Song Gang 1 and the Singapore-owned Yuk Tung; and the Rye Song Gang 1 and the Taiwanese-owned Lighthouse Winmore.
In the case of the Lighthouse Winmore, South Korean authorities eventually seized the vessel for alleged sanctions violations. Her ship manager, a Chinese firm, denied any knowledge of the incident.