Japan Reports More North Korean Fuel-Smuggling Activity
The Japanese Ministry of Foreign Affairs has released imagery of another suspected ship-to-ship fuel transfer between a North Korean product tanker and a Chinese-controlled vessel. It is the third instance of apparent sanctions-busting activity reported by Japanese forces this year.
On February 16, a Japanese patrol aircraft and the Japanese corvette Sendai spotted the North Korean tanker Yu Jong 2 tied up with a small vessel on the high seas, about 135 nm off Shanghai. The second vessel bore Chinese characters reading "Min Ning De You 078," which roughly translates to "Fujian Province Ningde City Oil Tanker 078."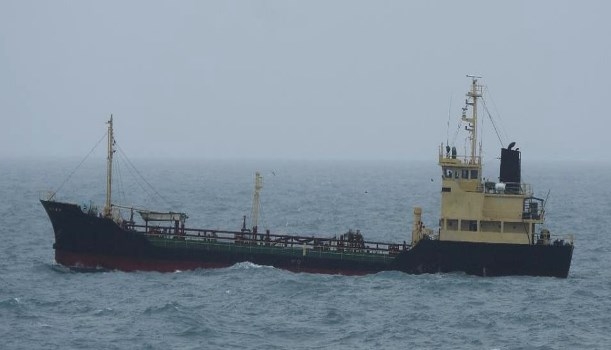 "Judging from the fact that the two vessels lay alongside each other and connected hoses, both vessels could have been engaged in some type of activity. Following a comprehensive assessment, the Government of Japan strongly suspects that they conducted ship-to-ship transfers banned by UNSCR," the ministry wrote.
The report followed less than a week after Japanese authorities alleged that the Hong Kong-operated tanker Wan Heng 11 transferred fuel to a North Korean tanker, a violation of UN Security Council sanctions on Pyongyang. Last September, the Council adopted a resolution banning high-seas petroleum transfers to North Korean ships, part of the UN's attempt to force the government of Kim Jong Il to cease its nuclear weapons program.
The Yu Jong 2 transfer also occurred less than a month after Japanese forces spotted the Rye Song Gang 1 rafted up alongside the Singapore-controlled tanker Yuk Tung (below). Separately, South Korean authorities suspect that the Rye Song Gang 1 engaged in a fuel-smuggling transfer with a Taiwanese vessel, the Lighthouse Winmore.