Jacksonville Posts Growth in Asia-USEC Cargo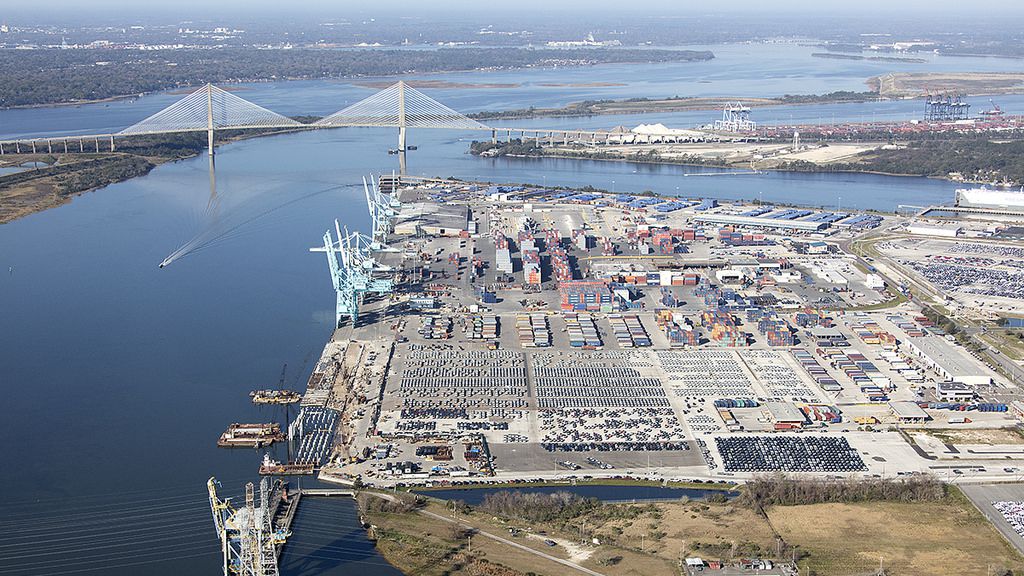 The Jacksonville Port Authority has been growing its container volume fast thanks to Asia-USEC trade, which has increased an average of 29 percent per year over the last five years. Just in the last six months, the port moved 160,000 TEU from Asia, up from 135,000 year-on-year. It now comprises a third of the port's business.
JAXPORT is attracting the new volume through major investments. With federal funding, it is deepening its shipping channel to 47 feet, sufficient to permit access for the largest box ships currently calling on the U.S. East Coast. The channel is the widest in the southeast, broad enough for two ships to pass at the same time. In addition, it has just inaugurated a new $30 million rail terminal, with an initial test shipment of equipment for military exercises; the port is one of 17 designated Strategic Seaports for national defense, humanitarian assistance and disaster relief sealift operations. It is also investing in an on-dock rail facility and new container cranes, among other upgrades.
The port is strategically located for ease of access to the 60 million consumers living within a day's truck drive of its facilities - and it is equipped to handle volume, with three cargo terminals and one cruise terminal, the home port for the 2,000 passenger Carnival Elation. For freight, it offers intermodal connections to three interstates and three rail lines, with 36 daily trains, and its associated free trade zone streamlines customs clearance.
JAXPORT is also a hub for U.S.-Puerto Rico trade; its container volumes on that route have grown 10 percent in the past six months, and breakbulk has rising by a third over the same period. It is the homeport for TOTE Maritime's Perla del Caribe and Isla Bella, the first container ships in the world powered by LNG, which offer regular service between Florida and Puerto Rico.