ITF Alleges Safety Shortcomings at Jakarta's JICT Terminal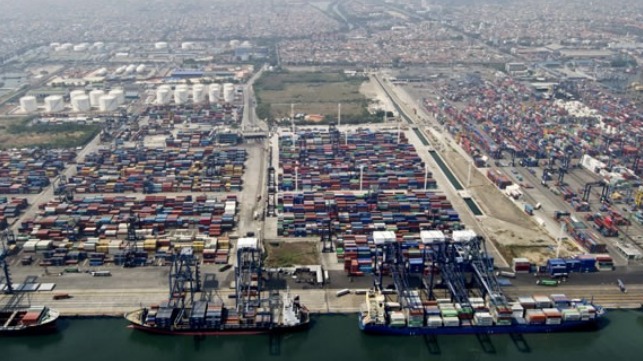 The International Transport Workers' Federation (ITF) dockers' union has set its sights on leading terminal operator Huchison's Jakarta International Container Terminal (JICT), alleging patterns of poor workplace safety.
On Monday, a new ITF Dockers' safety working group met in Hong Kong to discuss patterns of workplace incidents. Over the past year, more than 50 dockers have died in preventable incidents at ports around the world. During its review, the meeting noted a serious accident this week at Jakarta International Container Terminal (JICT) in which a container of dangerous chemicals dropped from an RTG crane. No one was injured in the accident. A union investigation concluded that equipment failure and an inexperienced operator were the main reasons for the accident.
"[We] stand united in our utter condemnation and preparedness to fight so that every worker goes home safely," said Suryansyah Bahar, deputy president of the ITF-affiliated union Serikat Pekerja Jakarta International Container Terminal (SP JICT). "Hutchison is the biggest stevedore in the world and has an obvious responsibility to its global workforce to meet occupational health and safety requirements."
According to ITF, five workers have died at JICT over the past two years, and there have been more than 10 nonfatal incidents per month in 2018. ITF alleges that the accidents are a direct result of the dismissal of one hundred experienced and unionized workers, who were allegedly replaced with inexperienced workers. "They chose to bust the union over safety and performance at the terminal, and this has led to injury and death," said ITF president Paddy Crumlin.
ITF and SP JICT have also accused Hutchison of reducing workers' wages, and other ITF-affiliated unions have raised allegations of unsafe conditions at the firm's other Asia-Pacific facilities. Separately, ITF has also targeted Philippine-based terminal operator ICTSI over alleged anti-union activity, safety shortcomings and other concerns.