Italy Deploys Fleet Oiler to Serve as Floating Hospital off Gaza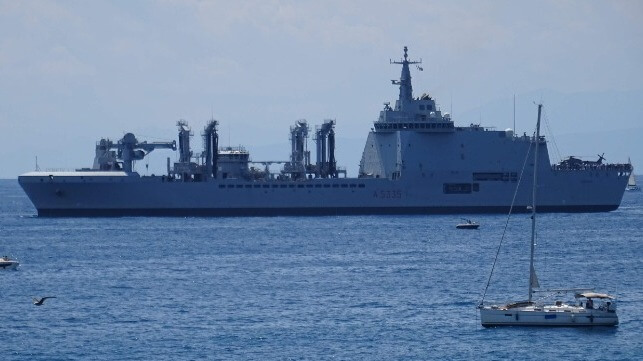 On Wednesday, the government of Italy confirmed that it will be sending a naval auxiliary to the Eastern Mediterranean to provide aid during the ongoing battle in Gaza.
Italian Defense Minister Guido Crosetto said that the fleet oiler Vulcano will be dispatched to Israel with a crew of 170, including 30 medical professionals. While Vulcano is designed primarily to resupply warships with fuel and dry stores, she is also equipped as a Role 2LM medical unit - a NATO designation for a forward receiving facility that can stabilize trauma patients.
"We are the first to carry out a humanitarian operation in that area and we hope other countries will follow suit," Crosetto told media.
The need for casualty-receiving vessels may be substantial. An estimated 10,300 Gazan residents have passed away during the Israeli response operation against Hamas, according to Gaza's Hamas-controlled health ministry, and an estimated 26,000 have been injured (though these numbers cannot be verified). Another 1,400 Israeli civilians and military personnel were targeted and killed by Hamas on October 7.
The Vulcano will join a growing fleet of NATO government vessels in the Eastern Mediterranean and Red Sea. The French helicopter carrier Tonnerre is on station, and has some limited onboard hospital capabilities. Sister ship Dixmude is being outfitted as a temporary hospital ship and will be dispatched soon to join the effort. The U.S. Navy carrier USS Gerald R. Ford and her escorts are in the region to provide deterrence, with the support of the Bataan Amphibious Ready Group in the Red Sea. The USS Dwight D. Eisenhower and her escorts are in transit to the Arabian Sea for a regional deterrence mission.
Minister Crosetto added that Italy will also be sending a shoreside field hospital to be deployed within Gaza, the first foreign-assistance hospital mission set up since the beginning of the Israeli security operation last month. The situation for aid providers on the ground is challenging: 92 United Nations aid employees have been killed in Gaza over the past month, more than in any other conflict since the UN's founding.