Italy Captures 5 Tons of Cocaine Transferred from Cargo Ship to Trawler
Italy's police and prosecutors are reporting the seizure of 5.3 tons of cocaine in what they are terming the "most important cocaine seizure ever carried out" in Italy and one of the "most important worldwide." They seized drugs with an estimated street value of approximately $950 million apprehending the merchant ship that transported the cocaine from South America and an Italy fishing trawler that was being used for the illicit transfer at sea.
Involving units from Palermo and Messina, including both naval and air forces, Guardia di Finanza described an elaborate operation that began by tracking an unnamed merchant ship registered in Palau that was arriving from South America. Air units on patrol began tracking the vessel on July 18 as it was arriving off the coast of Italy. They are reporting having been tracking and investigating the vessel for "a few days."
#GDF e #DDA #Palermo sequestrate oltre 5,3 tonnellate di cocaina, per un valore di oltre 850 milioni di euro, e un'imbarcazione. Arrestate 5 persone.#NoiconVoi pic.twitter.com/c5PdVHPBPp

— Guardia di Finanza (@GDF) July 21, 2023
In the early hours of July 19, they determined that the "mother ship," was positioned at the limits of the territorial waters. They believed the cargo ship was waiting for another vessel to come from the coast of Italy for the illicit transshipment.
During the surveillance, they detected an Italian fishing boat that had departed port and turned off its AIS location signal. As the fishing boat approached the "mother ship," the Italian police report observing packages being thrown overboard into the water from the bulker.
Naval forces intercepted the fishing boat which by that time was returning to Italy. They searched the ship and found the cocaine concealed behind a panel. The fishing boat was taken into custody along with five people who were aboard. The police are reporting that individuals are an Italian, a Frenchman, an Albanian, and two Tunisians who were all handed over to prosecutors and are currently in an Italian jail. The fishing boat was taken to Porto Empedocle.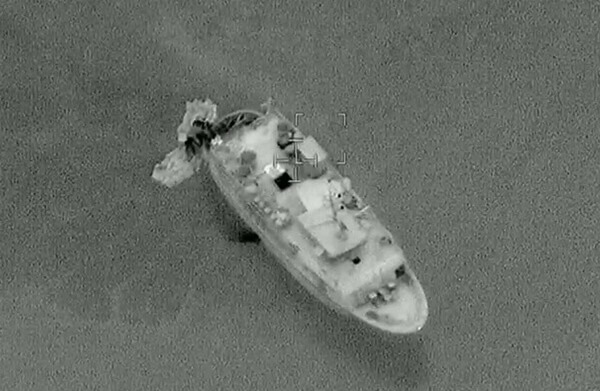 Crew from the trawler retrieving the packages that turned out to be 5.3 tons of cocaine (Guardia di Finanza)
The Italian forces also began to pursue the merchant ship, which by this time was attempting to escape. It was trying to enter international waters and heading in the direction of Turkey when the Italian forces were able to intercept the vessel.
The unnamed ship is being taken to Palermo for further investigation. The ship has a crew of 15 aboard including Ukrainian, Turkish, and Azerbaijani Azeri citizens.
Prosecutors are saying that the seizure once again demonstrates that the Mediterranean is one of the areas most affected by illicit drug trafficking. Additional details on the case are being withheld pending further investigation.