It's Back to "Business as Usual" for Live Exports
The RSPCA has slammed the decision by Australia's Government to relax new animal welfare conditions for live sheep exports only months after they were introduced.
In an Export Advisory Notice distributed to industry representatives last week, the Department of Agriculture and Water Resources confirmed that, as of November 1, stocking density reductions for sheep would be relaxed by 37.5 percent from the restrictions put in place in July this year.
"This is an outright capitulation to the demands of live export companies and clearly shows that this Government is placing profits ahead of animal welfare," said RSPCA Australia's Senior Policy Officer Dr. Jed Goodfellow. "While Minister Littleproud talks tough on animal welfare, his actions are what count. This decision means it's back to business as usual for the live sheep trade."
The increase in stocking density will allow exporters to load three 50kg sheep into a space that is barely larger than a square meter.
"At these densities sheep will not be able to lie down at the same time, nor will they be able to easily access feed and water troughs, over a journey of some three to four weeks at sea," said Goodfellow. "The Department of Agriculture knows full well that this decision has no scientific basis whatsoever, and they confirmed this publicly in Senate Estimates hearings on May 24 this year."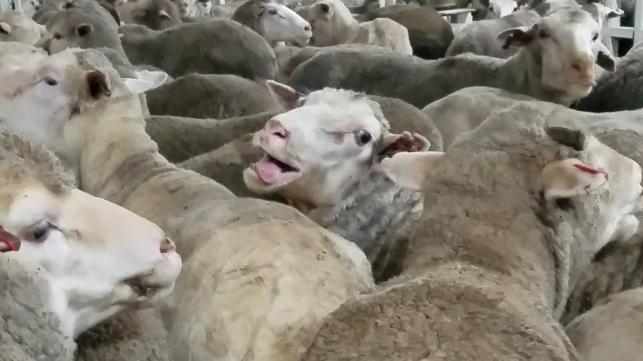 The move also ignores the advice of the Australian Veterinary Association which advised Government that the stocking density reductions introduced in July were "the minimum amount needed to alleviate adverse welfare outcomes and must be implemented across all body weights and all months of the year."
It has only been six months months since the nation was shocked by footage of what Australian sheep experience on board live export vessels, Goodfellow says. "The Government is obviously hoping we have short memories. It's now up to the Australian public to show them that's not the case."
Whistle-blower footage aired on 60 Minutes in April showed thousands of sheep suffering severe heat stress; sheep caked in melted feces and urine; injured and sick animals left to die slowly; decomposed bodies left in pens with living sheep and pregnant ewes giving birth and their lambs dying.
WARNING: THIS FOOTAGE SHOWS GRAPHIC CONTENT THAT SOME VIEWERS MAY FIND DISTURBING