Israel Reviews Decision to Lease Haifa Terminal to China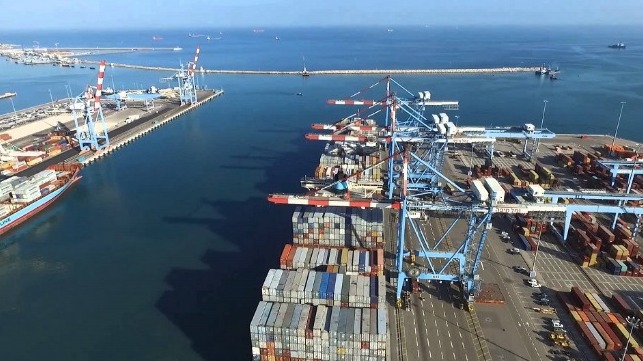 Israel's top-level security officials are examining an agreement with Shanghai International Port Group for the management of a container terminal in Haifa. The United States has expressed concerns about whether a Chinese presence in Haifa would be a barrier to U.S. operations in the port, including calls by American warships.
Last week, U.S. Navy spokesman Cmdr. Kyle Raines told the Jerusalem Post that he could not rule out changes to Navy deployments after SIPG arrives in Haifa. "For now, there are no changes to our operations in Israel [but] I can't speculate on what might or might not occur in 2021," he said.
According to comments recently reported by Newsweek, ex-chief of naval operations Adm. Gary Roughead (USN, ret'd) believes that a Chinese-run port in Haifa would mean that U.S. Navy ships could not regularly call at the Haifa naval base, Israel's largest naval installation. He suggested that the likelihood of Chinese intelligence activity would present an enhanced risk to operational security.
When Israel sought to bring in a new port operator in Haifa in 2015, SIPG was the only bidder, and the two sides signed a lease to give SIPG control of a new terminal site beginning in 2021. SIPG operates the world's busiest container port, the Port of Shanghai, along with other large terminals in China. While the firm is publicly listed, the majority of its shares are held by the government of Shanghai.
"I am sure that this decision wasn't made haphazardly and that there were serious discussions about it," said one senior official, speaking to the Times of Israel. "It probably has to do with financial considerations. The Chinese can do it faster and better, and we needed someone to operate our ports quickly."
China has been rapidly expanding its network of port operations leases worldwide, in Pakistan, Sri Lanka, Myanmar, Greece, Djibouti, Tanzania and beyond. The expansion has raised concerns among other nations about the national security implications of Chinese-operated terminals in strategic locations - and whether these facilities might serve a dual purpose. In Djibouti, China's port facilities include an overt naval facility; in Sri Lanka, where China has taken control of the port of Hambantota in exchange for debt reduction, India is concerned that PLA Navy vessels could use the port as a naval base.