Investor and Philanthropist Paul Allen Passes at 65
Microsoft co-founder and business magnate Paul G. Allen passed away Monday from complications related to non-Hodgkin's lymphoma. He was 65 years old, and he left behind a legacy of achievement in business, sports, philanthropy and science - including oceanographic research and exploration.
Non-Hodgkin's lymphoma is a cancer of the body's white blood cells, and Allen first learned that he had the disease in 2009. A successful course of treatment put it into remission for nine years, but two weeks ago, Allen announced that the cancer had returned.
Allen was a titan of the business world, and at the time of his passing, he was on the top-50 list of the world's wealthiest people. He famously began his career by dropping out of college, joining Bill Gates to found a small software firm that they called "Micro-Soft." In 1980, mainframe computing giant IBM contracted Allen's company to provide the operating system for its new personal computer, or "PC." By the 1990s, Microsoft (its name slightly shortened) provided the operating system for more than 90 percent of the world's PCs, and its market dominance in desktop computing remains virtually unchanged today.
Allen left Microsoft in 1983, but he kept his share of the firm's ownership, which brought him tremendous wealth when Microsoft went public. He leveraged that funding into a wide array of investments, from real estate to technology to communications and aerospace. He also purchased the Seattle Seahawks, the Portland Trail Blazers and a share in the Seattle Sounders FC soccer team.
"Paul loved life and those around him, and we all cherished him in return," said onetime partner Bill Gates in a written statement. "He deserved much more time, but his contributions to the world of technology and philanthropy will live on for generations to come."
Allen also supported environmental and conservation projects, notably the University of British Columbia's Sea Around Us initiative and the exploration work conducted by his private research vessel, the RV Petrel. The Petrel's crew have located numerous shipwrecks from WWI and WWII, including the warship USS Juneau and the Australian submarine HMAS AE1, and they recently helped the U.S. Navy to find a wrecked cargo plane from the carrier USS Ronald Reagan.
Working with NOAA, Allen also co-funded the Deep Argo project, which uses submersible floats to collect data down to nearly four miles below the surface. Deep Argo is intended to help scientists better understand of how the bottom half of the ocean may influence long term weather, climate, and sea level rise.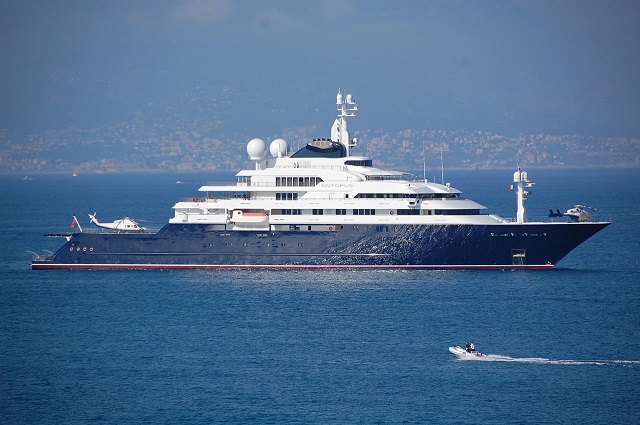 Paul Allen's yacht Octopus (file image)
Allen was also well-known in the yachting community: his megayacht Octopus, one of the world's largest at 414 feet in length, was regularly seen on the Northwest Passage. Like RV Petrel, Octopus often deployed for research and exploration missions on behalf of other organizations, and she is registered with AMVER to assist with SAR operations. Allen also owned the 303-foot yacht Tatoosh.