Interview: Counting Down to Ballast Water Compliance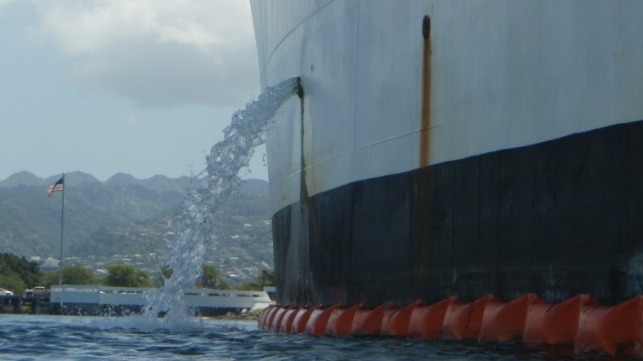 This September, IMO ballast water management rules will begin to take effect for existing ships, and the countdown to compliance has begun. For an inside view into the state of the market, MarEx spoke with Bio-UV's CEO, Benoit Gillmann, and Bio-Sea business director Xavier Deval. Bio-Sea is one of the few U.S. Coast Guard-approved, UV-based ballast water treatment systems.
MarEx: Ballast water management requirements have been a long time coming, and many owners have waited to see how the equipment market and the rules shape up. Are shipowners beginning to invest in retrofits, or are they still holding back?
Gillmann: The shipowners are moving, and they have to move really fast now. If they do not, they will not manage to be equipped on time or they will pay a maximum price for getting a system on a fast-track delivery. All ships will have to retrofit a system between September 2019 and September 2024, and the peak will probably be between 2020 and 2022. There is no more time to install a test system on just one or two ships to try it out - we are in the home stretch, this is it.
MarEx: Under the Vessel Incidental Discharge Act of 2018 (VIDA), the U.S. Coast Guard will begin evaluating ballast water treatment systems using viable / non-viable criteria, like IMO. Will this new standard be adequate?
Gillmann: The fact is that it is very important to be prudent. For drinking water applications around the world, regulators use MPN-metered (viability) criteria for counting microorganisms. When the U.S. Coast Guard decided to go with CMFDA (vital stain), we said, OK, we have two options. One is to avoid Coast Guard certification. The other is to decide that they will go with CMFDA and will not change, and we will engineer equipment to meet that standard. So we went with this second option. It was a very significant investment for a small company to go through their type approval process.
Now, after a huge lobbying campaign by some U.S. actors, Congress has decided to open the window to MPN. As yet, nothing is written - the window is open, but there aren't any details. For us, it doesn't change anything, since we're already Coast Guard-certified at a certain flow rate and retention time. If the final regulations under VIDA are less stringent, we will still have the lowest retention time on the market, and we will be able to treat a higher flow rate using the same unit.
The treatment result in UV is always linked to an equation involving flowrate, power, type of organisms to treat, and other factors. If you can reduce the UV dose required, you can increase the flowrate. As an example, under IMO type approval (based on MPN method), one of our systems can treat 150 cubic meters of ballast water per hour; under U.S. Coast Guard type approval (based on CMFDA method), for the same vessel and same equipment, it can treat 100. So if we can come up to 150 also under the new U.S. rules, that would be an improvement for our customers.
MarEx: Anecdotal reports suggest that some shipowners have had problems with filter clogging. How important is the filter when selecting a system?
Gillmann: On the market, there are maybe 10 manufacturers of filters. Some make good-quality filters capable of capturing organisms down to about 50 microns. Some are more reliable than others, and some are able to do a good job with even smaller organisms, down to 20-30 microns. We did our type approvals with one filter which is efficient, solid, reliable and does the job. Some of our competitors are using the same filter.
Now, shipowners and yards should be careful: do those companies have the capacity to supply filters for such a large market on such a short timetable?
MarEx: What are shipowners looking for when they shop for a ballast water system?
Deval: First, the market is focused on whether a system is U.S. Coast Guard approved or not. If a system is Coast Guard approved, it is considered; if it is not Coast Guard approved, it is not considered. We have both IMO and U.S. Coast Guard certification, which puts us in a small club. Out of all the UV-based systems, only four have both certifications.
Second, the holding time. Shipowners are looking for the shortest holding time, and we have the shortest on the market - zero holding time in fresh water and 24 hours in seawater.
Third, the flexibility of integration is important, and modular design makes the Bio-Sea system much easier to install. Fourth, we have a strong worldwide service network, and we provide high quality training for crewmembers on the use of our systems. And last, we believe that we have a good ratio between performance, quality, reliability and price.
MarEx: How are shipowners completing the installations? Are they hiring specialist firms or having the work done by their shipyard?
Deval: For the small flow rate systems, up to around 300 cubic meters per hour, we are working with some shipowners who are doing the integration themselves. They have the knowledge, the time and the crew with the skill to do the work.
For higher flow rates, many shipowners are contracting with engineering companies who have been trained and certified by us. They know how to integrate our unit in order to deliver the best operation. In general, it is safer to go through an engineering company in order to be sure that the system is correctly installed.
MarEx: What do the next few years look like for Bio-Sea?
Gillmann: We are aiming for five percent of the UV-based ballast water treatment market, and we're already seeing a good volume of business. We are a public company now, since last July, and we have also organized new operations in Asia, which is an important part of this market.
We are well-positioned for the implementation period because we can fill new orders quickly. Being able to deliver something well is being able to deliver it in a reasonable lead time. Many shipowners will decide and order a system just a few weeks before a drydocking. Therefore, having a proper inventory is a strategic asset: if we can deliver within a short timeframe, we will get the order. - MarEx