International Women in Maritime Day 2022
To celebrate the first International Day for Women in Maritime, The Maritime Executive is honored to present the profiles of women across the industry who go above and beyond in their commitment to the maritime community. From lawyers to engineers to transportation experts, the following women set the standard in their respective fields and serve as a source of inspiration for a new generation of maritime professionals.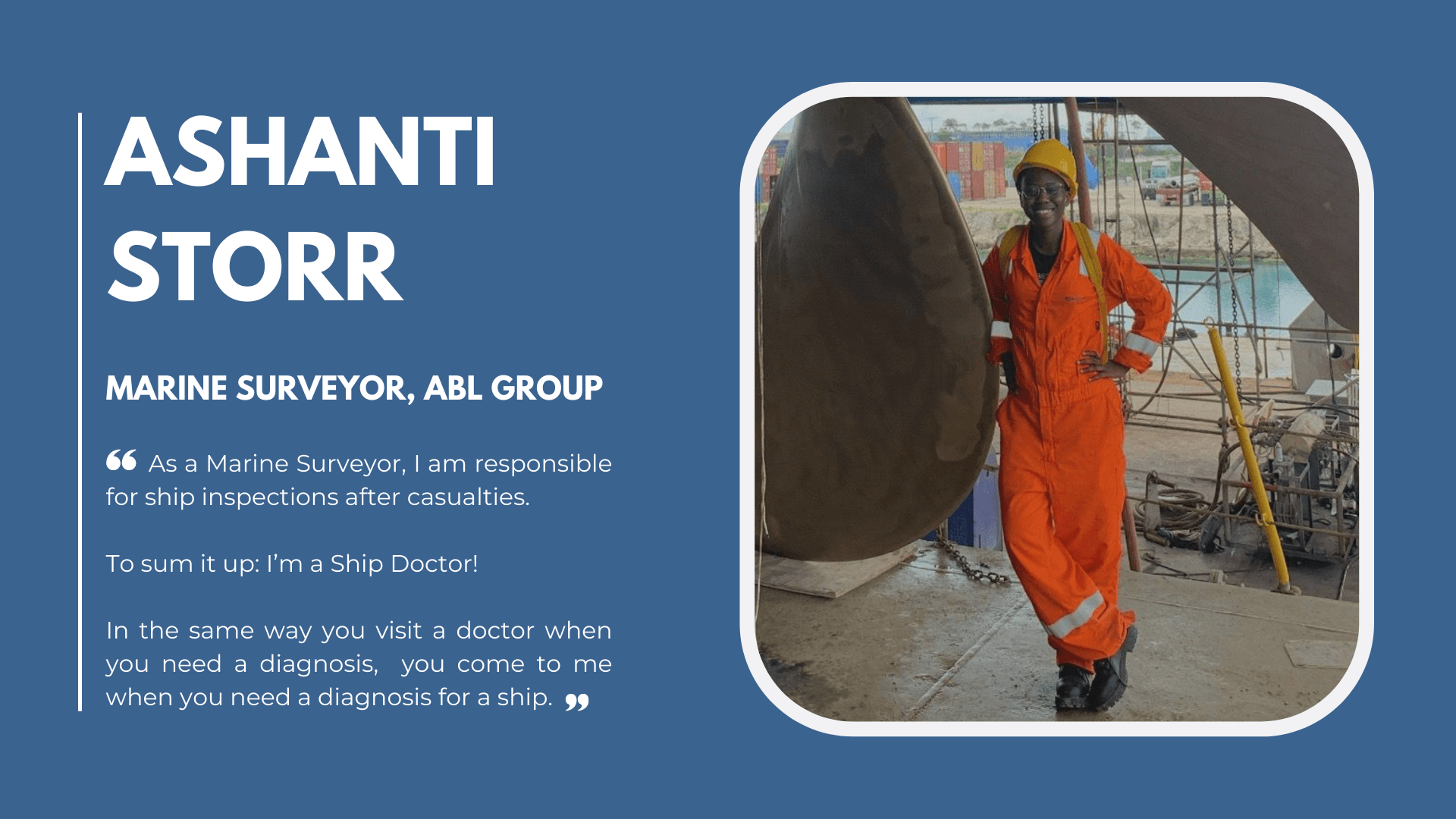 Allow me to introduce myself: I am Ashanti Storr - a Marine Surveyor at ABL Group in New York. As a marine surveyor, I am responsible for ship inspections after casualties. My job requires me to respond to events such as groundings, sinkings, fires or collisions. I must be prepared at any moment to travel all over the USA and internationally to investigate the extent of damages and make repair recommendations following the emergency casualty. Other times I am requested by underwriters to conduct an inspection on the condition of the vessel to ensure compliance with industry standards and specifications.
To sum it up: I'm a Ship Doctor!
In the same way you visit a doctor when you need a diagnosis, an annual checkup, or a specialist's opinion, you come to me when you need these things for a ship.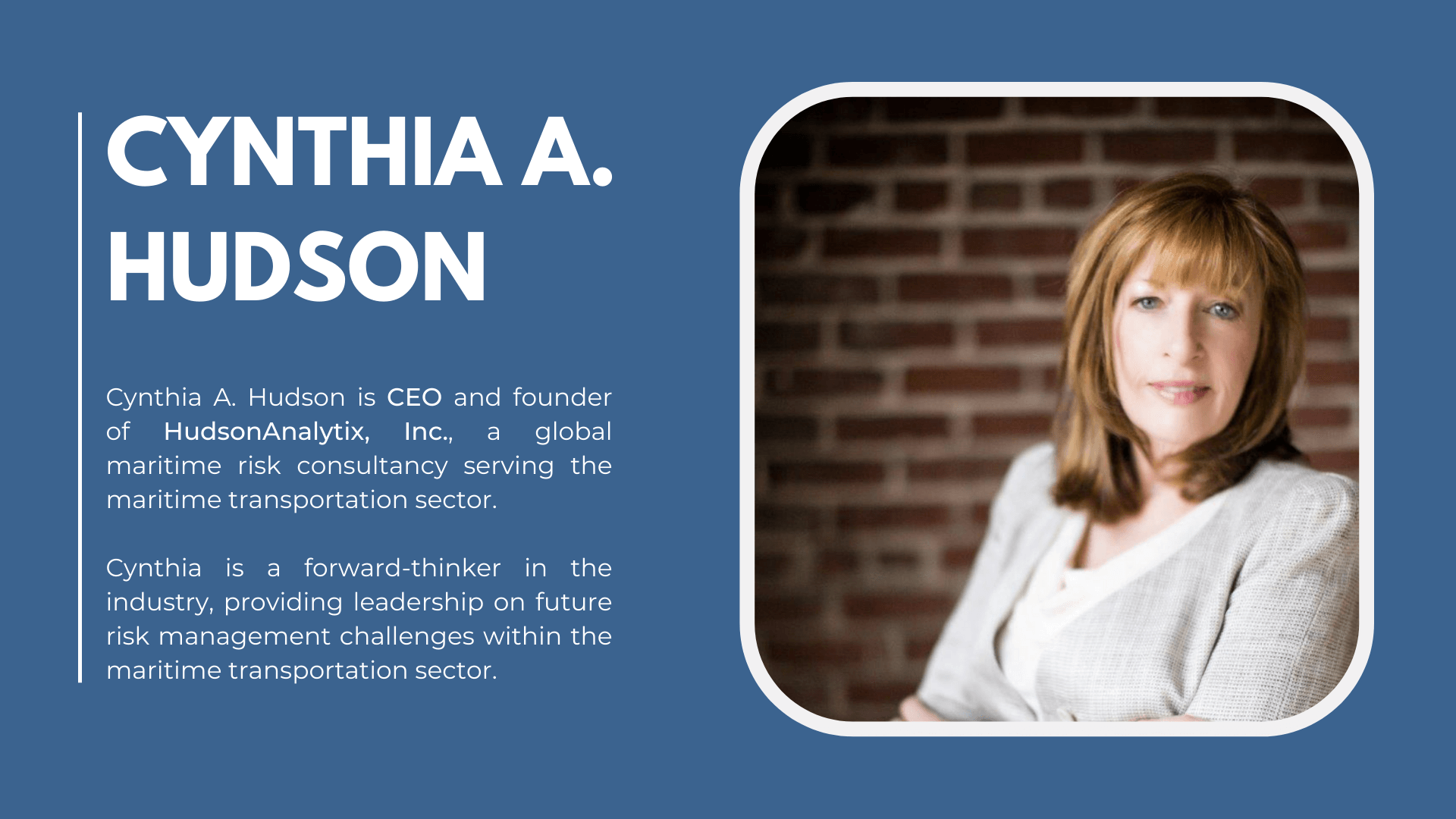 Cynthia A. Hudson is CEO and founder of HudsonAnalytix, Inc., a global maritime risk consultancy serving the maritime transportation sector. In 1986, Ms. Hudson founded what became HudsonAnalytix to provide emergency response, maritime project management, and consulting services to maritime transportation interests. She led the firm into maritime security for ports and vessels, providing port vulnerability security assessment work at hundreds of ports and facilities worldwide.
In 2016, she expanded the HudsonAnalytix cyber security initiative to design and deliver cybersecurity and cyber risk management solutions to maritime clients and provide cybersecurity expertise to governmental agencies. She has created and spearheaded services like CyberIQ™ and projects such as CyberLogix™ and PortLogix™, both of which are tools providing tailored assessment and benchmarking information to senior port and shipping executives around the world. Cynthia is a forward-thinking leader in the industry, providing leadership on future risk management challenges within the maritime transportation sector.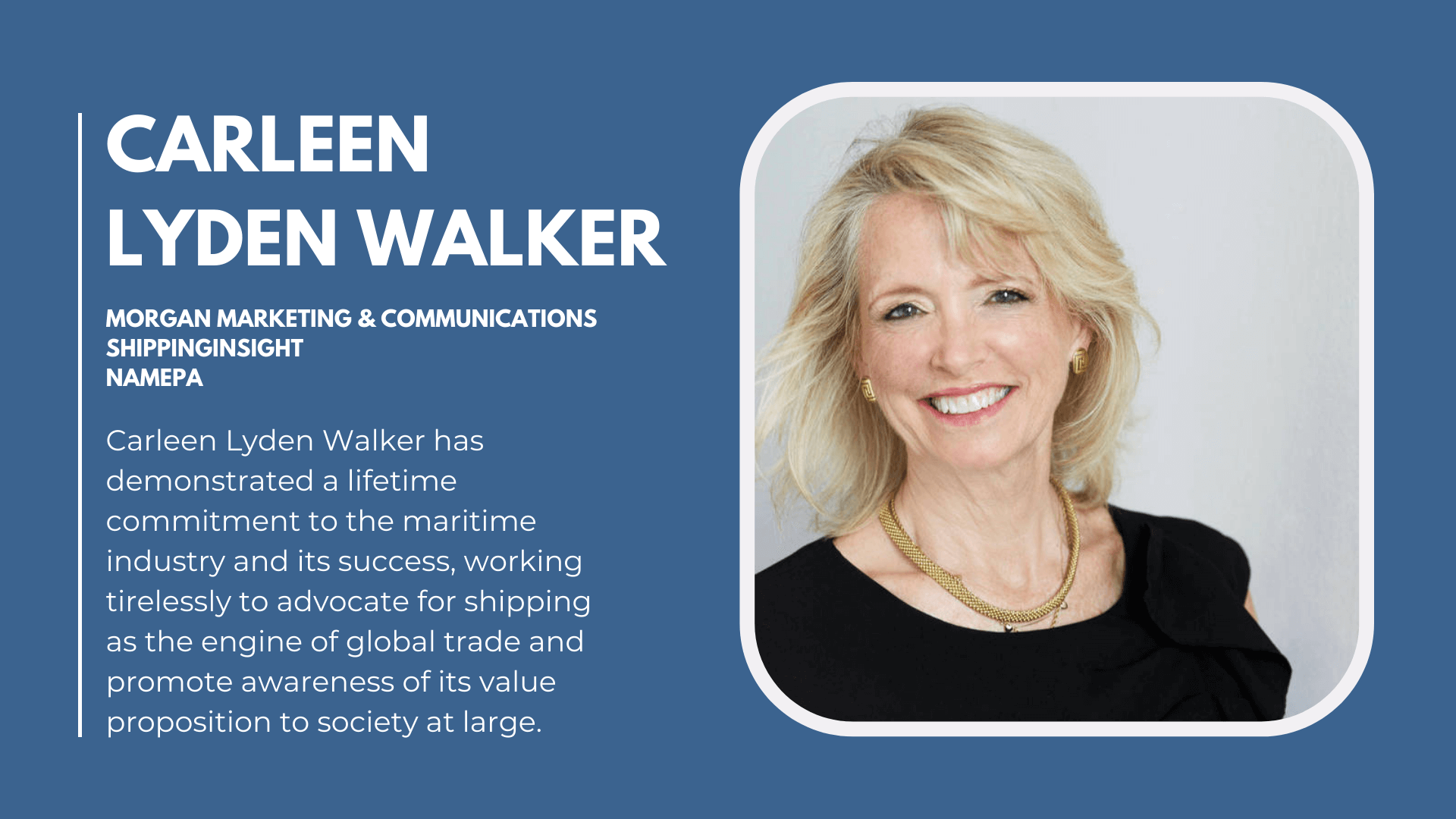 Carleen Lyden Walker has demonstrated a lifetime commitment to the maritime industry and its success. From an island in Michigan watching commercial shipping transit the Detroit River (at the time, the second busiest waterway after the Suez Canal) to establishing Morgan Marketing & Communications dedicated to supporting maritime companies in their goals to add value to the global shipping industry; to founding NAMEPA (North American Marine Environment Protection Association); to taking on SHIPPINGInsight- the fleet optimization and innovation platform for shipping. Carleen works tirelessly to advocate for shipping as the engine of global trade and promote awareness of its value proposition to society at large.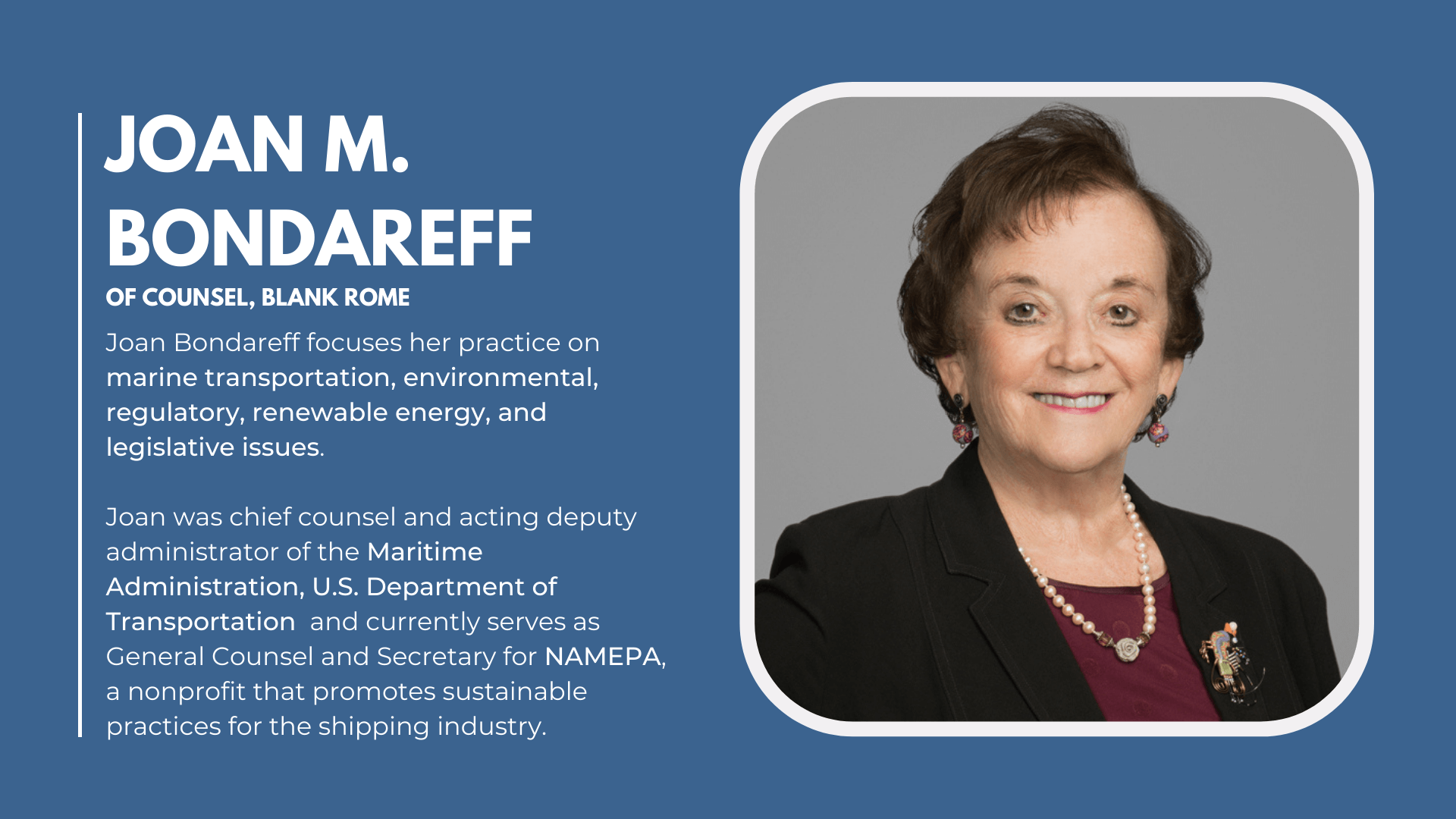 Joan Bondareff focuses her practice on marine transportation, environmental, regulatory, renewable energy, and legislative issues. Before joining Blank Rome, Joan was chief counsel and acting deputy administrator of the Maritime Administration, U.S. Department of Transportation. She was also former majority counsel for the House Committee on Merchant Marine and Fisheries. Joan served on the Obama Transition Team for the Department of Transportation handling maritime-related issues. She worked on the OPA 90 legislation and also helped develop the Natural Resource Damage Assessment regulations when she was the assistant general counsel for Ocean Services at the National Oceanic and Atmospheric Administration.
Joan is a former member of Women in Government Relations ("WGR") and served on the Homeland Security and Environment and Energy Task Forces. She has received a certificate of appreciation from the American Bar Association's International Legal Resource Center and the United Nations Development Program for advice she gave to the Republic of Fiji on new mining laws, and was appointed by the U.S. Department of State as an expert on coastal zone management and planning for the United Nation's second World Ocean Assessment.
Joan has been chair of the Virginia Offshore Wind Development Authority since being elected to the position in November 2016, receiving a letter from Governor Ralph S. Northam on behalf of the Commonwealth of Virginia, expressing his admiration and sincere appreciation for her selfless service, achievements, and contributions.
She currently serves as an adjunct professor at Georgetown Law School and was recently selected to be an international mentor for Women in Wind.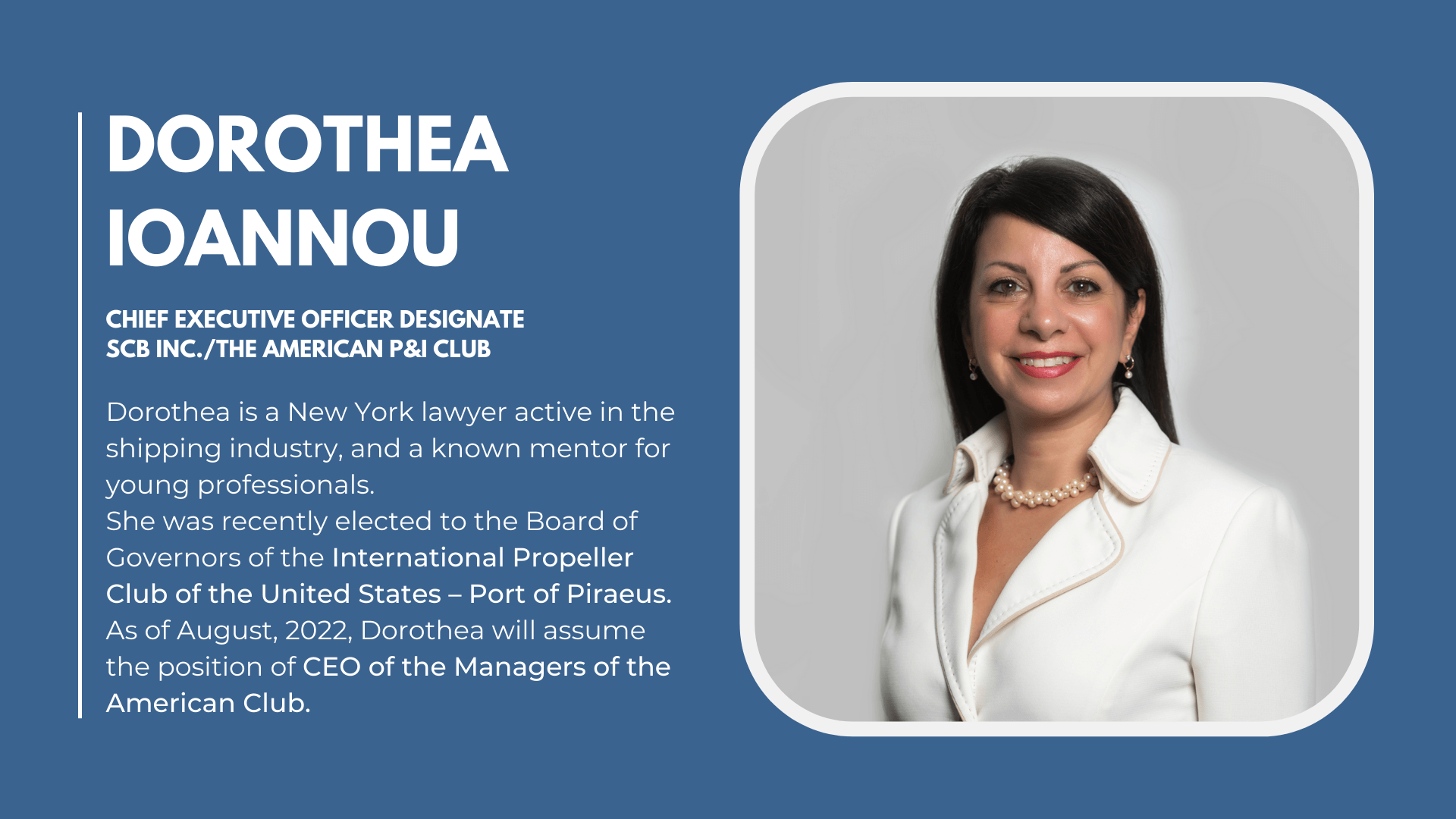 Dorothea Ioannou is a New York lawyer whose career began in the early 90's working in medical insurance and in law firms involved in commercial as well as maritime law. In January of 1998, she entered the marine insurance broking industry where she built a reputation for highly effective maritime casualty and claims management, and in 2005, joined the Managers of the American P&I Club, member of the International Group of P&I Clubs, as a Claims Executive. In 2009 she took on the claims as well as general management of the Piraeus office. She later became the Regional Business Development Director for Europe Middle East and Africa, and then promoted to Global Business Development Director, making her the first woman to occupy a top-level global executive position in the history of the American Club and its managers.
In 2018 Dorothea was appointed Chief Commercial Officer which led to her role as Deputy Chief Operating Officer, overseeing global operations and in June of 2020 Dorothea was appointed Secretary of the Board of Directors of the American Club. As of August 1, 2022, Dorothea will assume the position of CEO of the Managers of the American Club (Shipowners Claims Bureau, Inc.) which will make her the first female CEO leading an International Group Club in the 167 years since the first mutuals of the current Group were founded.
Dorothea is active in the shipping industry, a frequent speaker at events, a known mentor for young professionals and in 2017 Dorothea was awarded with the Next Generation Shipping Award for 2017 at the Lloyd's List Global Awards in London. She served on the Board of WISTA Hellas for four years as Vice President, served as a board member of the Piraeus Marine Club, represents the Club as a member of the American Hellenic Chamber of Commerce and most recently was elected to the Board of Governors of the International Propeller Club of the United States – Port of Piraeus.
Sanjam Sahi Gupta works at her family business in Mumbai India "Sitara Shipping Ltd." and found her true calling advocating for diversity in the maritime Industry when she witnessed the unfair treatment of female seafarers a decade back. It is then she vowed to stand by the motto "not on my watch". She is passionate about driving change and creating equal opportunities for women, hence launching Maritime SheEO in 2019.
She has won several awards, the most prominent being the Sandvik Gender Award –for her outstanding contribution and commitment to gender equality.
In June 2019 she was invited as part of a High-Level panel initiative by The Norwegian Prime Minister, Erna Solberg for a Sustainable Ocean Economy, comprising a group of world leaders from coastal states committed to ocean action in support of the Sustainable Development Goals.
She is a gender expert empanelled by the UN ESCAP and IMO and is committed to driving change for a more inclusive maritime industry.
One of the region's most experienced legal experts in maritime, Jasmin Fichte founded Fichte & Co in Dubai in 2005. As part of her ongoing mission to improve awareness and interest in the region's maritime sector she chairs the Dubai Maritime Advisory Council, which advises the Dubai government on improving the city's shipping framework, and an editorial board member of shipping magazine MARASI. Also, she is a member of the DIFC Courts Rules Sub Committee, The International Bar Association, German Maritime Arbitration Association and UAE Shipping Association.
Besides achieving numerous landmark judgements, she was recognized multiple times as the Personality of the Year and the Most Influential Woman in Shipping & Maritime in the UAE and one of the Super 50 Lawyers in the Middle East and North Africa and has been consistently named in the Legal 500 EMEA and Chambers & Partners. In addition, she is usually part of the Judging Panel at the Seatrade Maritime Awards, which takes place in association with Lloyd's List.
Jasmin also works closely with the UAE Ministry of Energy & Infrastructure (former Federal Transport Authority for Land and Maritime) and the Dubai government to improve maritime infrastructure and has been appointed to join the UAE delegation to the IMO to attend the Legal Committee meetings of the IMO.

Serving as dual-licensed maritime officer, Eva Lianne Veldkamp started her career by crossing the many oceans of our globe on large container vessels. Presently Ms. Veldkamp serves as an IMO Policy Coordinator for the the Commonwealth of Dominica Maritime Registry, which is open international ship registry committed to serving the seafaring community as a whole through training, licensing and certification with integrity and honesty.
Representing Commonwealth of Dominica at IMO, Ms Veldkamp believes that mariners and seafarers are the real assets of our industry and will always stand tall in support of the human element.
Ms. Veldkamp leads a working group for the Center for Ocean Policy and Economics - COPE° on Psychological Safety and Sexual Assault and Harassment in the Maritime Sector. Translating talk into action addressing the psychological welfare and safety of today's mariner.
In addition Ms. Veldkamp is connecting maritime professionals globally, in order for them to benefit from the online learning simulators, training, examination and certification platforms NEMO° and HALO° developed by Northeast Maritime Institute.