Indonesia Blows Up 23 Foreign Fishing Vessels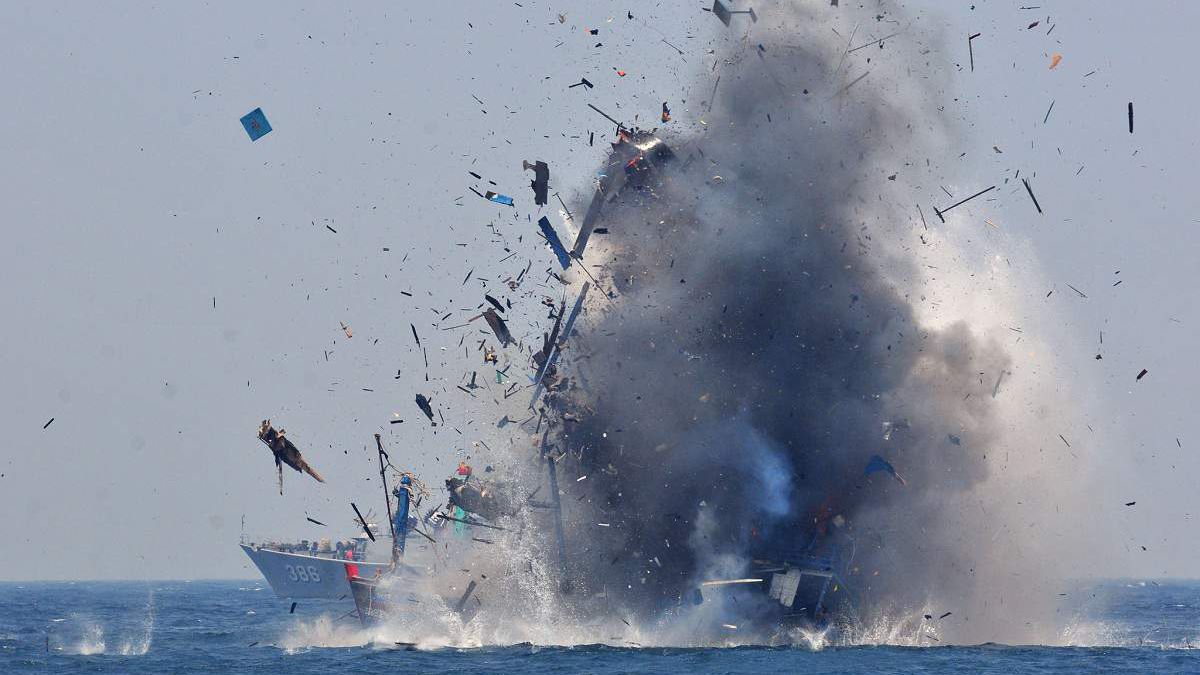 On Tuesday, Indonesia's Maritime Affairs and Fisheries Ministry, in cooperation with the Navy and the National Police, blew up and sank 23 foreign fishing vessels caught operating illegally in Indonesian territorial waters.
"The sinking of the boats is to enforce the law and to protect the sovereignty of our territory to ensure that the sea is the future of our nation," said the agency's director, Minister Susi Pudjiastuti.
The vessels - 13 Vietnamese boats and 10 from Malaysia - were seized following tips from locals, and some were reportedly flying Indonesian flags in an attempt to disguise their nationality.
Pudjiastuti has led a highly popular, well-publicized campaign to combat the incursion of foreign fishing fleets, using what some would consider extraordinary tactics. A poll last year found that the former seafood entrepreneur is the country's most highly regarded minister. Under her administration, the ministry has blown up over 170 vessels to date, including the last of the notorious "Bandit 6" toothfish poaching vessels, the Viking.
She is also on the front lines of asserting Indonesia's domain over its exclusive economic zone, leading the call for China to respect the boundary and to keep its fishing fleet within international waters. In March, the Chinese fishing vessel Kway Fey entered Indonesian waters and was briefly detained by authorities - until a Chinese Coast Guard ship intervened, preventing Indonesian forces from securing the vessel.
Pudjiastuti later called for Beijing to return the Kway Fey for destruction. China claimed that the Fey was merely visiting its "traditional" fishing grounds.
The South China Sea contributes roughly one tenth of the world's seafood catch, but returns are declining, increasing pressure on each nations' fleets to look to their neighbors' waters for resources, experts say. In addition, China is reportedly using its distant waters fishing fleet as a way to assert its "nine dash line" claim to a wide swath of the area, well beyond the 200 nm bounds of an exclusive economic zone.
File footage: Indonesian authorities carrying out demolition of fishing vessels, 2015