Indian Navy Frigate Tips Over in Graving Dock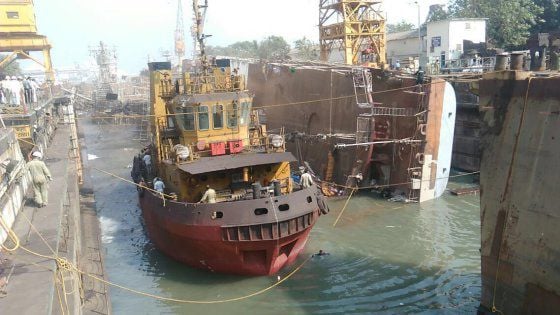 On Monday, the Indian Navy guided missile frigate Betwa fell over while undocking at the Mumbai naval yard's Cruiser Graving Dock.
Two sailors were killed in the incident. AFP reports that one of the deceased fell from the frigate and one was within the vessel.
"At about 1:50 PM today, INS Betwa, a frigate of the Indian Navy, was in the process of undocking in Naval Dockyard (Mumbai) when she slipped from her dock blocks and tilted. Immediate action was taken to get all personnel to safety. Two sailors however, succumbed to injuries post the incident," Indian Navy spokesmen said in statements to media.
14 servicemembers were injured, and some were transferred to a naval hospital for treatment.
The Betwa was in dock for repairs below the waterline. Work on the ship had just been completed and the graving dock was being flooded when the ship tipped over. Images from the scene show her mast broken off and her port side partially submerged.
The Indian Navy is formulating a salvage plan for the 4,000-ton vessel. Investigations into the cause of the incident are under way, and the Navy's Chief of Staff is traveling to Mumbai to be present for the response.
The Betwa suffered damage to a sonar dome in 2014 in a grounding near the Mumbai naval base, and her captain was transferred to other duties shortly thereafter.
The graving dock incident is the Indian Navy's third major accident at Mumbai in five years (in addition to a string of less serious events).
In 2011, the frigate Vidhyagiri collided with a merchant vessel and sank in Mumbai's harbor. The frigate had officers' families on board at the time of the collision; none were injured. In 2013, the submarine Sindurakshak exploded and sank at pier during a torpedo replenishment. 18 servicemembers were killed in the accident. In 2014, two officers were killed in a fire on a nuclear submarine off the coast of Mumbai.