Indian Coast Guard Saves Passenger Freighter from Flooding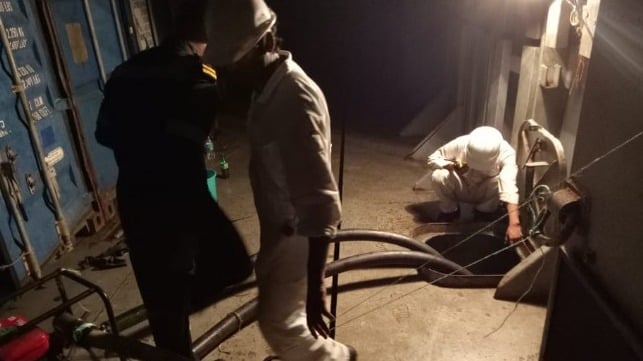 On Wednesday, the Indian Coast Guard rescued 343 passengers and crew from the ferry Swaraj Dweep after a serious flooding incident.
The vessel had departed Port Blair, South Andaman on Wednesday for Nancowry Island, about 200 nm to the south. She had 250 passengers, 93 crewmembers and containerized cargo on board. During the voyage, flooding began in the number two hold, forward of the deckhouse, and the water rose to a level of five meters (16 feet). The crew's efforts to pump it out did not alter the water level.
At about 0140 hours, the master of the Swaraj Dweep made a distress call to the Indian Coast Guard station at Port Blair. The agency diverted the cutter Aruna Asaf Ali to the scene, and she rendezvoused with the Swaraj Dweep at a position about 40 nm east of Car Nicobar Island. The responders deployed heavy-duty dewatering pumps to bring the water level in the number two hold down to less than one foot.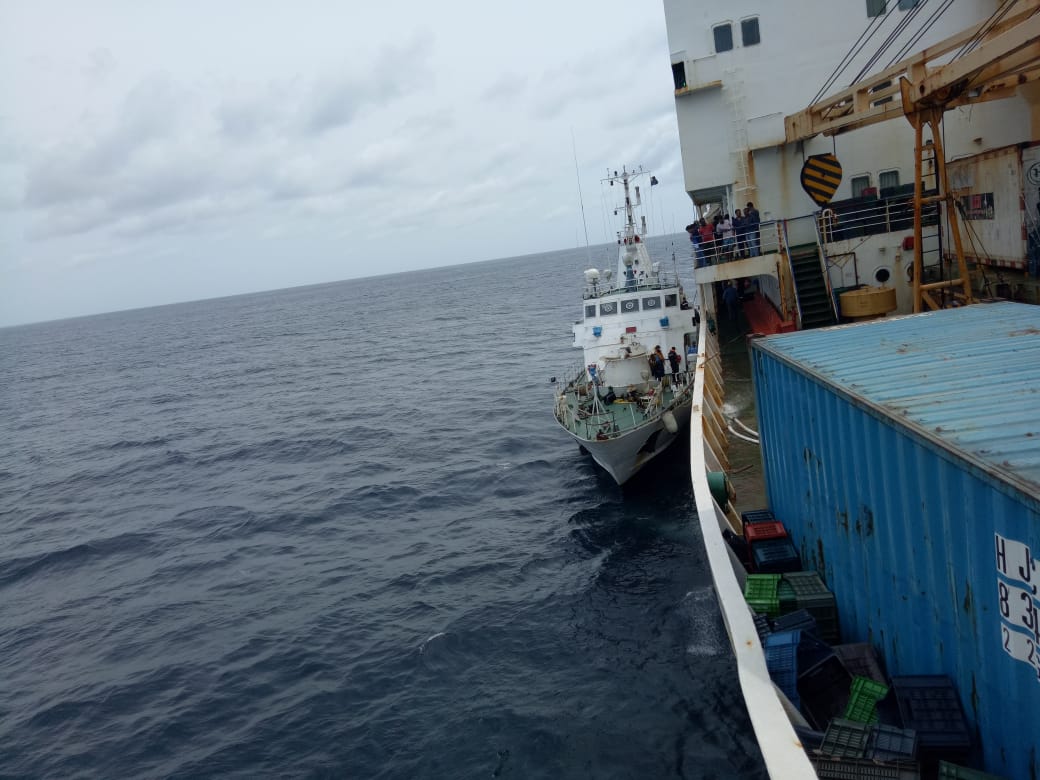 The response effort succeeded in reducing the risk from flooding, and passengers were transferred to the bulker Ocean Marvel in order to "avoid complications if weather deteriorates," the Indian Coast Guard said.
Operating challenges
According to a 2017 investigation by the Times of India, the Andaman and Nicobar Islands ferries face operating challenges due to stiff competition from airline services. Ticket sales have fallen, and the Swaraj Dweep and her sister ship Nancowry may sale with just a few hundred passengers - a fraction of the 1,000-plus berths available on each. The fall in popularity has paralleled a decline in reliability, according to an account provided by a crewmember and corroborated by a company official: engine failures have occasionally forced the Swaraj Dweep to slow, and the Nancowry has reportedly suffered from generator failures and air conditioner breakdowns. However, fares are very affordable, and island residents may pay as little as $14 for a voyage to Chennai.
The 1992-built Nancowry and 1999-built Swaraj Dweep are relatively new examples of a dwindling vessel class - the geared passenger freighter, a design that saw widespread use before the advent of air travel and containerized cargo. The vessels are due to be replaced by newbuilds from Cochin Shipyard, which has been contracted by the Indian government to build four vessels to serve the islands. The order was originally announced in 2016 as a contract for four catamarans, and at the time, Union Minister Nitin Gadkari suggested that they would be ready by mid-2018. In late April 2018, Gadkari attended a keel-laying ceremony for two monohulls at Cochin Shipyard, and his ministry indicated that plans for two more are in the works.