ILWU Files for Bankruptcy to End ICTSI's Work-Slowdown Lawsuit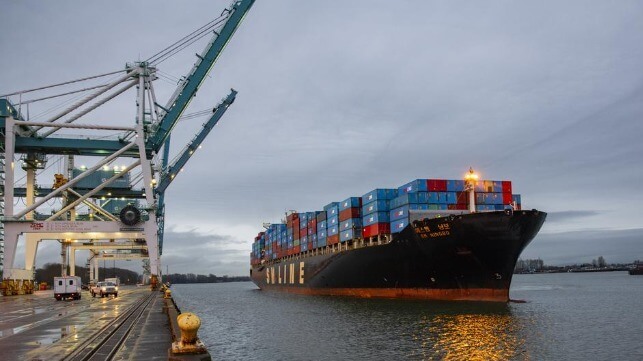 After years of legal wrangling over allegedly unlawful labor actions at an ICTSI-operated container terminal in Portland, Oregon, the International Longshore and Warehouse Union (ILWU) has filed for bankruptcy.
According to the National Labor Relations Board, ILWU organized slowdowns at ICTSI's Portland terminal in order to damage ICTSI's business and coerce the Port of Portland into giving ILWU longshoremen the work of plugging and unplugging reefer containers – a task normally assigned to the port's union electricians, IBEW Local 48. The dispute covered two full-time positions (two FTE) employed on reefer-plugging duty.
"By inducing and encouraging, since September 2012, longshoremen employed by ICTSI Oregon, Inc. at the Port of Portland to unnecessarily operate cranes and drive trucks in a slow and nonproductive manner, refuse to hoist cranes in bypass mode, and refuse to move two 20-foot containers at a time on older carts, in order to force or require ICTSI and carriers who call at terminal 6 to cease doing business with the Port, Respondents ILWU and Local 8 have engaged in unfair labor practices affecting commerce," NLRB found in 2015.
The ICTSI terminal gradually lost its deep-draft boxship services, and container volumes fell to near-zero by 2017. That year, ICTSI pulled out of its contract with the port and abandoned its operatorship at the terminal. It brought a civil suit against ILWU, alleging millions of dollars in damages from the union-versus-union conflict.
Two years later, a federal jury ruled in ICTSI's favor, finding that slowdowns organized by ILWU and Local 8 had caused damage to ICTSI's business. The jury awarded ICTSI $94 million in damages. ILWU appealed, and in 2020 a district court judge reduced the damage award to $19 million.
In a Chapter 11 bankruptcy petition in California last week, ILWU said that its assets came to just $11.6 million - still not enough to pay for the damage award. "We intend to use the Chapter 11 process to implement a plan that will bring this matter to resolution. The officers are confident that we are taking the right step to put our organization on the best path forward — and we are optimistic for all that is ahead," said ILWU's leadership in a statement.
The ILWU will ask the bankruptcy court to preserve its cash management system and allow it to continue meeting its employee and payroll obligations. These are customary requests, and the union expects that they will be granted.
The filing follows shortly after ILWU's leaders concluded a landmark agreement with the Pacific Maritime Association (PMA) for a generous long-term labor contract, which covers seaports up and down the U.S. West Coast. According to Reuters, the improvements include a 32 percent pay increase for ILWU members over the course of the next six years.