Ice Prompts Debate over Great Lakes Spill Response
Canadian pipeline operator Enbridge is engaged in a debate with environmental groups over the operation of an aging underwater pipeline that runs beneath the Straits of Mackinac, the narrow waterway between upper and lower Michigan.
Last month, Enbridge reached an agreement with Michigan governor Rick Snyder that allows it to continue operating the line, except during weather conditions that would interfere with a spill response. The agreement defined poor weather as wave heights over eight feet. In return, Enbridge promised to study the possibility of replacing the line – which sits above the surface of the lakebed – with a pipe buried in a tunnel. The firm said that it would also look at measures to reduce the risk of damage to the current pipeline from boat anchors.
On Sunday, Michigan's Pipeline Safety Advisory Board called for the governor to shut down the line until repairs are made to areas where the exterior protective coating is missing (photo above). It also requested that Gov. Snyder's deal with Enbridge should be revised to allow pipeline operations only when waves are three feet high or under.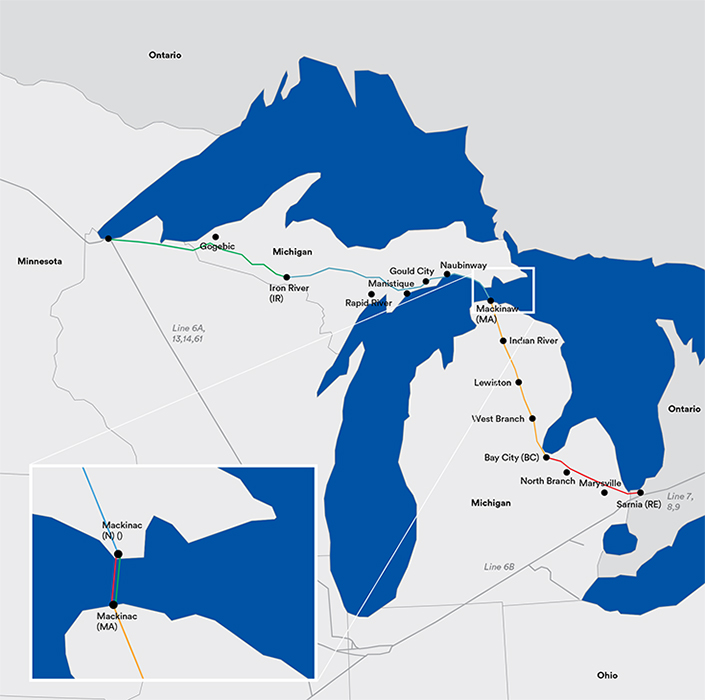 Line Five (Enbridge)
Local environmental advocates contend that these measures do not go far enough. These ativists say that the board and the governor did not take into account a prominent feature of wintertime navigation on the Straits of Mackinac: ice. The Coast Guard is the only entity in the region with icebreakers, and its vessels are usually busy ensuring the safety of navigation during the wintertime. In the event of a spill, the service says, the nearest icebreaker could be up to two days away.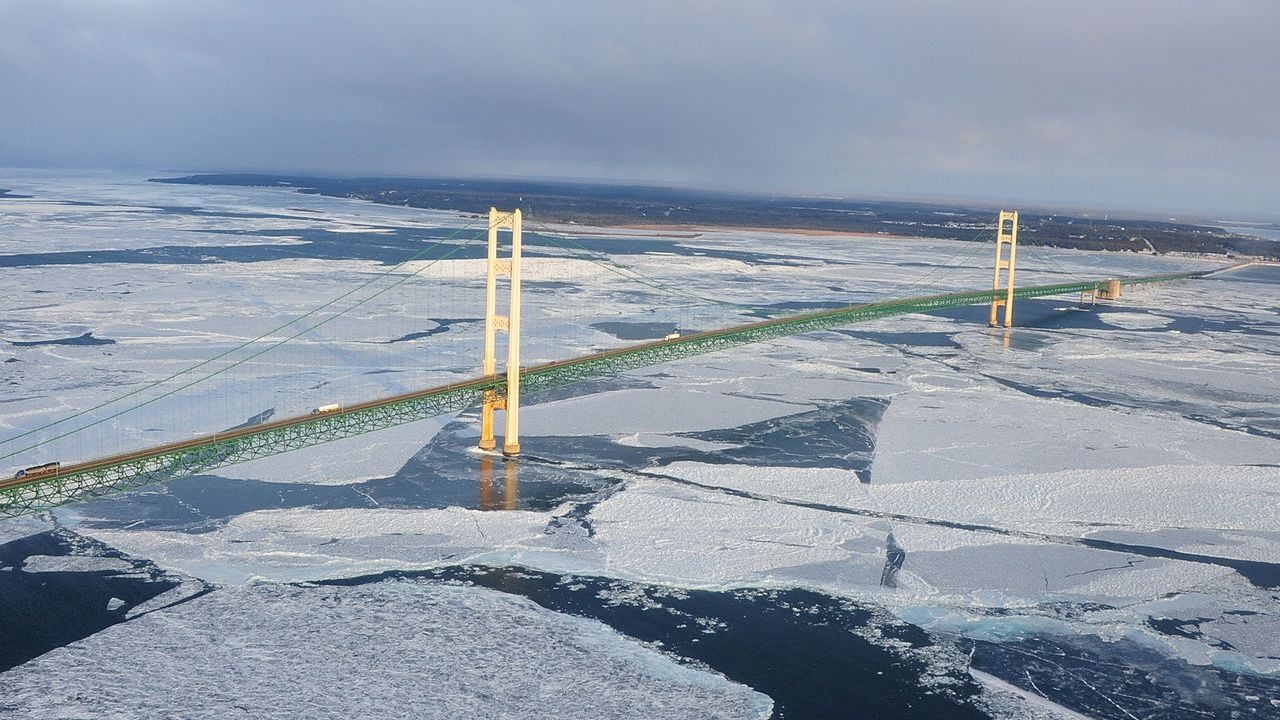 Ice on the Straits of Mackinac, January 2012 (USCG)
In congressional testimony last month, Coast Guard Commandant Adm. Paul Zukunft said bluntly that his service is not prepared to handle the worst-case scenario for pipelines like Line Five. "I will go on the record and say that the Coast Guard is not Semper Paratus [always ready] for a major pipeline oil spill in the Lakes," he said.
Enbridge says that Line Five's dual 20-inch pipelines remain in excellent condition and have never experienced a leak in their 60 years of operation. The line is used to transport natural gas liquids, light crude oil and light synthetic crude, and it supplies most of Michigan's propane.
"We're committed to the letter and spirit of this important agreement [with the governor], and to the options outlined in the agreement that move us to a longer-term set of decisions about the future of Line Five," said Enbridge spokesman Guy Jarvis, speaking to Michigan Public Radio.