Hyundai's KSOE Invests in Solid Oxide Fuel Cells for Marine Propulsion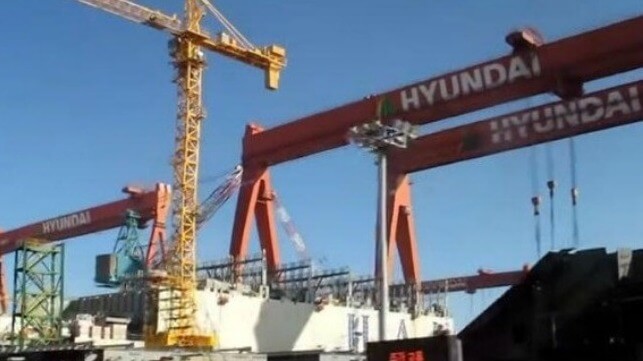 HD Hyundai Group's Korea Shipbuilding & Offshore Engineering is making a strategic investment in a European manufacturer of hydrogen fuel cells as it continues to build on its strategy for next-generation ships. KSOE is following an aggressive path to develop expertise in hydrogen technologies and the new investment builds on earlier efforts in this area.
KSOE will make a nearly $48 million (€45 million) investment into the Finnish subsidiary of Elcogen, a company based in Estonia that is considered to be among the world's most advanced solid oxide specialists. The company, which was founded in 2001, is a manufacturer of technologies used to deliver power from green hydrogen and emission-free electricity. The investment will be focused on Elcogen's Solid Oxide technology to further deepen the collaboration with KSOE on emission-free power generation systems as well as green hydrogen production.
HD Hyundai and Elcogen intend to further strengthen their collaboration with a focus on marine propulsion systems and stationary power generation based on Elcogen's solid oxide fuel cell and green hydrogen production based on Elcogen's solid oxide electrolyzer cell technology. The investment will be used to expand Elcogen's manufacturing capacity as it continues to build a new factory in Tallinn, Estonia. KSOE began working with Elcogen at the beginning of 2023 after signing an agreement to develop a prototype large-capacity solid oxide fuel cell system.
"HD Hyundai aims to establish a hydrogen value chain that encompasses the production, transport, storage, and use of eco-friendly hydrogen," said Sungjoon Kim, Vice President and head of KSOE's Advanced Research Center. Discussing the agreement entered into in January 2023, he said "The MOU will allow us to acquire key technologies in the fields of green hydrogen production and fuel cell system manufacturing."
The company is calling the decision to invest in Elcogen an important next step as it intends to further strengthen its collaboration with a focus on marine propulsion systems and stationary power generation using Elcogen's technology. KSOE intends to work with Elcogen to design and test a prototype large-capacity SOFC system.
Elcogen had previously attracted other high-profile investors including HydrogenOne, the first London-listed investment fund focusing on hydrogen technologies. The fund invested £20 million into the company in May 2022 as a co-investor with Biofuel OÜ and VNTM Powerfund II. They cited the company's technology which operates with lower-than-normal temperatures and has superior economics.
HD Hyundai reports its investment follows an extensive period of testing the full range of technology available in the market. They noted Elcogen's flexibility to produce electrical energy from a variety of fuels, including hydrogen, natural gas, ammonia, methanol, and biofuel. They noted the technology is also suitable for ship engines and cogeneration.
Since February 2022, KSOE has also been working with Fraunhofer IKTS, a subsidiary of Germany's Fraunhofer, the largest applied research institute in Europe. The German company is conducting research into high-performance ceramics and SOFC and water electrolysis. They are collaborating on the basic design of SOFC systems along with the ongoing efforts with Elcogen.
KSOE also formed a consortium with Shell and South Korea's Doosan Fuel Cell in October 2022. This project seeks to validate fuel cells for ships. It is providing a test bed for the validation of the systems.