Hurricane Michael Heads for U.S. Gulf Coast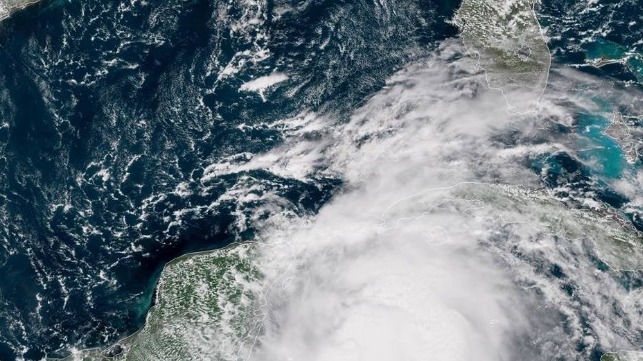 Tropical storm Michael has become a hurricane, and it is expected to strengthen rapidly as it heads north past Cuba towards the Florida Panhandle. The National Hurricane Center forecasts that it will make landfall on the Gulf Coast on Wednesday, bringing winds of up to 100 knots, a storm surge of 8-12 feet, and rains of 4-8 inches (with isolated areas of up to 12 inches).
"As Hurricane Michael nears landfall, we are working with state and local officials in Florida to take all are in precautions and we urge all residents to be prepared and to heed local officials. I told [Florida Gov.] Rick Scott, we are ready for you," said President Donald Trump on Monday. "Never ends, but we are all prepared and hopefully it won't be as bad as it's looking."
ExxonMobil announced Monday that it is evacuating staff from the Lena production platform in the Gulf of Mexico. It does not expect the evacuation to affect output. BP is also shutting down four platforms - Atlantis, Mad Dog, Na Kika and Thunder Horse - and is evacuating their personnel. Some of its mobile rigs are preparing to move to evade the storm if needed.
In an update Monday afternoon, the Bureau of Safety and Environmental Enforcement (BSEE) reported that 10 offshore platforms in the Gulf have been evacuated, about 1.5 percent of the total. Wells representing about 19 percent of the Gulf's oil output and 11 percent of its natural gas have also been shut in.
No jackups or moored semi-subs have been evacuated, but five out of the 17 dynamically-positioned MODUs in the Gulf have been moved out of the storm's path.
Coast Guard prepares for another hurricane
Even as the Coast Guard continues work to address the damage from Hurricane Florence in the Carolinas, the service has begun ramping up preparations for Hurricane Michael in Florida. The USCG has authorized the evacuation of all non-critical active duty servicemembers, civilian employees and dependents in the affected areas of Alabama and Florida, at each command's discretion.
"As we prepare our Coast Guard stations and personnel, we urge the public to do the same," said Capt. Holly Najarian, the Coast Guard Sector St. Petersburg commander. "Early preparations are key to keeping you, your boat, and maritime responders safe."
The Coast Guard called on private boaters to take precautionary measures to prevent property damage and unnecessary search and rescue operations:
- Owners of large boats are urged to move their vessels to inland marinas where they will be less susceptible to break free or to suffer damage.
- Trailerable boats should be pulled from the water and stored in a place that is not prone to flooding.
- Small personal watercraft, like paddle boards, kayaks and canoes, should be secured and marked with the owner's contact information. Personal watercraft often cause unnecessary searches for emergency personnel.
- Remove your EPIRB from your vessel, taking care that you do not accidentally activate it. Once severe weather has passed, be sure to put it back on board.