Honoring Veterans' Service at Home and Abroad
On Saturday, America will celebrate military veterans' service to their nation. November 11 is remembered in the UK, Canada and many allied countries as Armistice Day or Remembrance Day – the day that the First World War came to an end – but in the United States, its name has evolved over time. In 1954, President Dwight Eisenhower signed legislation changing Armistice Day to Veterans Day in order to recognize veterans who served the United States in all conflicts.
The U.S. Navy's message commemorating Veterans Day 2017
"On Veterans Day, we honor all Americans who have served in the Army, Navy, Air Force, Marines, and Coast Guard, both in times of war and peace," said President Donald Trump in a commemorative statement. "For nearly 100 years, since the end of World War I, Veterans Day has given us a time to pay due respect to our veterans, who have passed the torch of liberty from one generation to the next." Trump mentioned the service of Vietnam War veterans in particular and highlighted their contributions in defense of freedom. The president is on a diplomatic tour of East Asia and is presently in Da Nang. Additionally, Trump announced that he will proclaim the month of November to be Veterans Month, a 30-day period set aside "to hold observances around the country."
The day before Veteran's Day is the birthday of the United States Marine Corps, and to mark the service's 242nd anniversary, Marine Corps Commandant Gen. Robert B. Neller traveled to Guadalcanal to commemorate one of the Corps' heroes, Medal of Honor recipient Sergeant John Basilone. During the Battle of Guadalcanal, Basilone outfought a vastly superior Japanese force and held his position for several days until he could be relieved by another unit. "This is a story about an individual's heroic actions, but it's really about leadership, it's about perserverance, about resilience," Gen. Neller said. "So I think it's important for all of us to remember who we are and where we came from . . . Remember the past, honor those that are no longer with us, think about what's going on today and get ready for tomorrow."
Royal Navy prepares for Remembrance Day
In the UK, November 11 is celebrated as Remembrance Day, and for the Royal Navy's sailors it is an important occasion. 96 servicemembers – almost all of them junior ratings – are selected from across the service to train and participate in a commemorative march at the Cenotaph war memorial in London. "I feel very privileged and honoured to be able to represent my country at such an important event. Without those who have risked their lives for our futures we would not be where we are today," said Able Seaman Laura Suttle, 21.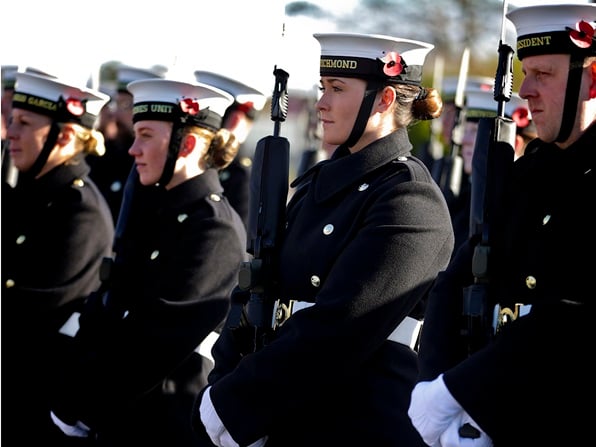 Suttle, center, training with her crewmates (Royal Navy)
For Warrant Officer 1st Class Eddie Wearing, the service's State Ceremonial Training Officer, the event is meaningful and also deeply personal. "I have served in various places across the world and I have lost a lot of friends in the military, so there is a massive personal part of this for me, but it is also a strong showcase of what we represent as the Royal Navy," he said.
Rembembering the sacrifices of the Merchant Marine
Merchant mariners have also given their all in defense of the nation, and the heroic stories of the crews of WWII Liberty Ships and T-2 tankers are legendary. Since the end of the Second World War, American mariners have transported government cargoes and supported combat forces in Korea, Vietnam, Bosnia, Iraq and beyond. Although civilian mariners no longer qualify for formal veterans status, tens if not hundreds of thousands have risked their lives in support of the U.S. military over the past 70 years. Today, 7,000 merchant mariners crew the naval auxiliaries of the U.S. Navy's Military Sealift Command, and many more stand ready to man the Ready Reserve Force (RRF) fleet in time of need.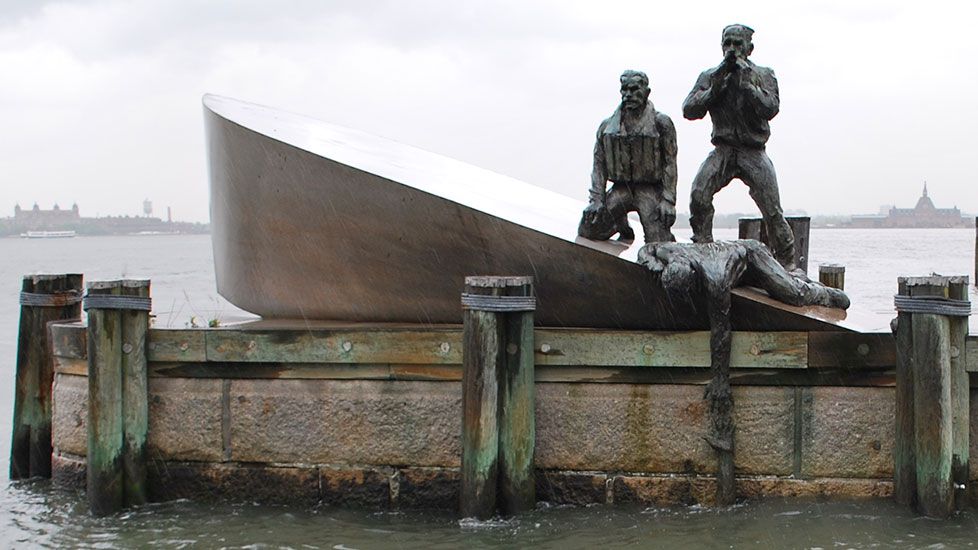 The Merchant Marine Memorial in New York City (file image)