HMM Place $1.1B Order for Methanol-Fueled Containerships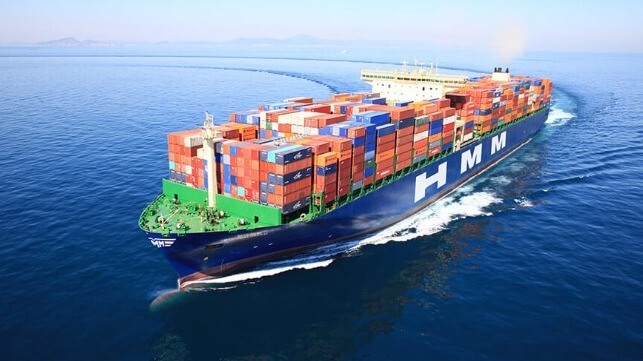 South Korean shipping company HMM is joining the increasing number of containership operators ordering methanol-fueled ships in their effort to build next-generation vessels to address emissions. HMM has placed an order valued at more than $1.1 billion for nine methanol-fueled containerships which represent the carrier's first eco-friendly ship order.
The construction is being split between Hyundai Samho Heavy Industries, which will build seven of the 9,000 TEU containerships, while two additional vessels will be built by HJ Shipbuilding and Construction. Hyundai has emerged as a leader in the building of methanol-fueled containerships with orders for both Maersk and recently CMA CGM, but the contract for HJ Shipbuilding is a major win for the mid-sized builder. Formerly known as Hanjin Heavy Industries the shipyard only re-entered commercial shipbuilding in 2021 after a six-year reorganization. So far, they had received orders for smaller 5,500 TEU and 7,000 TEU vessels.
Methanol is quickly winning over shipping companies as it is an available technology that provides a solid path toward decarbonization. The engine technology exists with the primary concern being a sufficient supply of methanol to meet the growing demand for alternative fuel. Efforts are also underway to develop green methanol.
DNV in its Alternative Fuels Insight database reports that there are only 25 vessels currently in service fueled by methanol with the majority being chemical tankers. However, they report that 59 additional vessels were already on order for methanol, led by 47 orders for containerships before HMM's order was announced today.
Addressing the fuel source concerns, HMM also has signed a Memorandum of Understanding with five fuel suppliers, including Proman, PTTEP, European Energy, and Hyundai Corporation, to secure the supply of methanol for its newly-ordered vessels. HMM said it will conduct a feasibility study with each partner to procure various types of methanol in its main bunkering ports and, subsequently, will collaborate to produce green methanol as part of developing carbon-neutral fuels.
The ships are part of HMM's strategic growth plan and will be deployed to take advantage of the emerging green initiatives in shipping. They highlighted the opportunity with the planned green shipping corridors between Busan, Korea, and key ports in the U.S. as one of the potential routes to operate the new ships. The ships, which are expected to be delivered in 2025 to 2026, are scheduled to be deployed on the Asia-North/Latin America trade lanes and the Asia-India routes.
HMM had taken a bold step in 2020 launching the then largest containerships in the industry with the 24,000 TEU HMM Algeciras followed by her sister ships. The company's fleet renewal efforts helped the business to return to profitability. Yesterday, they reported 2022 results with a nearly 35 percent increase in revenues to $14 million and similar growth in profits generating $7.8 million from operations.
Despite the weakening market due to the economy, HMM said it will continue to follow an investment strategy outlined in July 2022. The five-year plan calls for more than $11 billion in investments including strong growth for the container fleet. Currently ranked the eighth largest carrier by Alphaliner with a capacity of 820,000 TEU, HMM has set a goal of reaching 1.2 million TEU in capacity. At the same time, the South Korean government continues to discuss selling its interest in HMM to private investors to continue the growth of the carrier.