Hapag-Lloyd Supports Canada's Maritime Strategy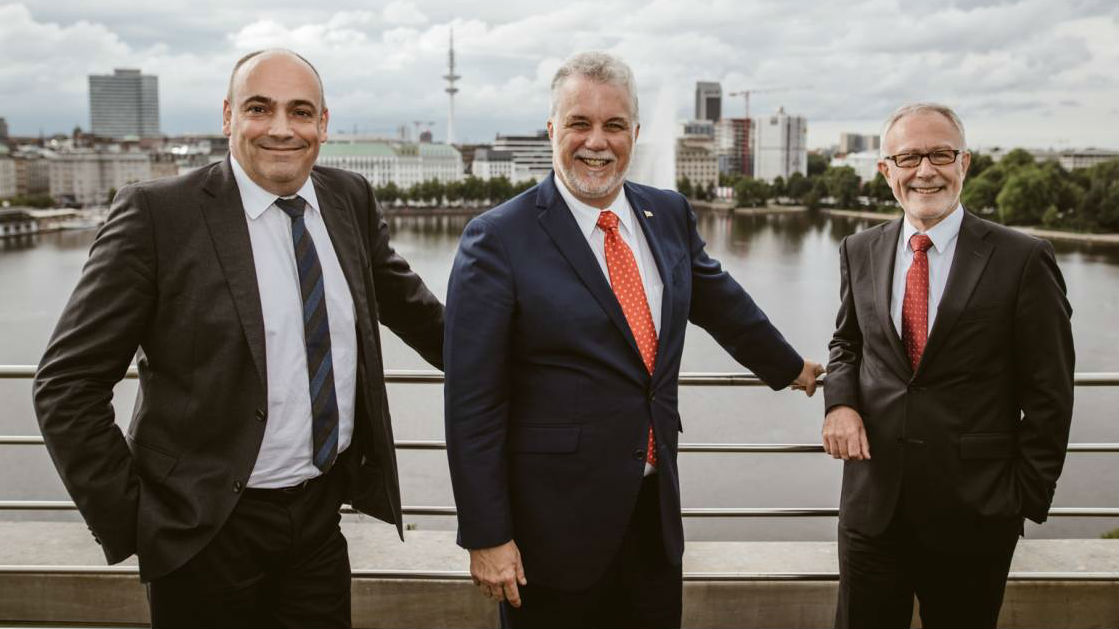 Premier of Quebec, Philippe Couillard, visited Hapag-Lloyd's headquarters this month to present his government's a maritime strategy for Quebec, highlighting that he wants to make better use of the economic potential of the Saint Lawrence River. The strategy includes a commitment to support the marine industry with more than $1.5 billion in investments, along with a commitment to sustainably develop the marine economy.
The strategy proposes to significantly improve road access to facilitate cargo movement, and the Government of Quebec has made a commitment to invest $75 million in a major project to improve road access to the Port of Montreal. The government also plans to back private investment projects in industrial port areas.
In 2015, cargo traffic handled at the Port of Montreal rose 5.2 percent to reach 32 million tons, a record high for the port. Containerized cargo grew 4.1 percent in 2015. Its volume reached 13.1 million tons, close to 1.5 million TEUs. Almost half of the goods that pass through the Port of Montreal are containerized, making it the Port of Montreal's largest sector of operations.
By internationally promoting Quebec's commercial ports, the Maritime Strategy is expected to spread awareness of all the benefits related to shipping on the St. Lawrence River. This will also strengthen the Port of Montreal's positioning abroad. Connected to 140 countries around the world, the Port is a leading platform between Europe and the markets of Quebec, Ontario and the U.S. Midwest. In addition, through transshipment, the Port of Montreal is now connected to regions such as Asia, which in 2014 represented about 15 percent of its total traffic.
"It's not just been since our 2006 fusion with the Canadian shipping company CP Ships that the Port of Montreal has been one of the most important ports in our global portfolio," said Anthony J. Firmin, Chief Operating Officer at Hapag-Lloyd. "We are naturally quite interested in the port's further development and infrastructure. We fully support the maritime strategy and see in it a great deal of potential for the Port of Montreal and all maritime players involved."
Hapag-Lloyd remains the market leader among liner shipping companies in Canada, with a market share increase to over 18 percent over the past year. Hapag-Lloyd is the largest liner shipping company in terms of throughput volume at both the Port of Vancouver and the Port of Halifax. Hapag-Lloyd also handles more containers in Montreal than in Los Angeles and Long Beach combined – the largest port complex in North America.
In order to be able to sail the Saint Lawrence River, which is quite shallow in places, with increasing transport volumes, Hapag-Lloyd has included some modern wide-body ships in its Montreal services, which can offer more capacity due to their low draught. Hapag-Lloyd has three exclusive services that connect Quebec and Europe, which call only at Montreal on the Canadian side (SLCS1 and SLCS2 to Northern Europe and MCA to the Mediterranean). Additionally, three Europe services also call at Halifax on Canada's east coast and six services at Vancouver on the west coast (to/from Asia and Australia/Oceania).
Back in 1861, the ships of "Hamburg-Amerikanische Packetfahrt-Actien-Gesellschaft" (Hapag), which was founded in 1847, travelled to Canada for the first time – and services to and from Canada have now been running on a regular basis since 1884.