Hamburg Süd Brand Transition Continues with End of Oetker Family Link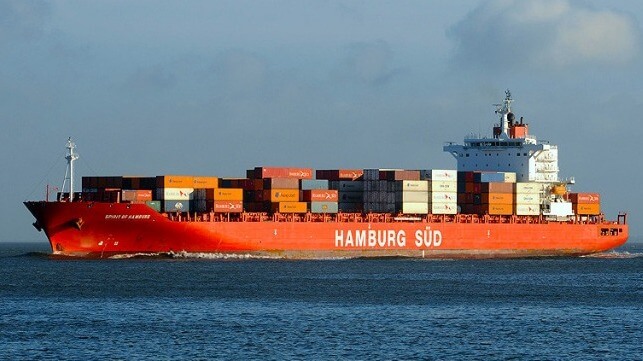 The transition of the storied Hamburg Süd brand identity continues as Maersk works to consolidate the company while today's news is that the last link to the family that owned the company for many years will come to an end. Philip Oetker announced on his LinkedIn feed that he will be leaving Hamburg Süd and Maersk by the end of July. His family has been investors and then owners of the shipping company for 87 of its 152-year history.
"The world of shipping is magical in its ability to bring people together, connect countries and continents, enable and empower trade. I count myself fortunate to have been able to actively accompany this industry for almost two decades," wrote Oetker in his farewell message. He quoted the storybook character "Winnie the Pooh" saying how hard it is to say goodbye.
Oetker is part of the company's senior management team with his position listed as Head of Hamburg Süd SAM Excellence. His focus was the commercial operations of the company which had continued to operate as a subsidiary of Maersk. Recent reports indicate Hamburg Süd operates a fleet of 132 containerships with a total TEU capacity of 646,500.
Founded in 1871, by 11 entrepreneurs, mostly merchants and bankers, the company's original focus was service between Hamburg and Brazil and the La Plata countries. Dr. August Oetker became involved and in 1936 his investment company acquired an initial 25 percent stake in the company. After World War II, the company had to overcome the loss of its fleet and strict limitations imposed by the Allies on post-War German shipping. In 1955, Dr. Oetker became the sole owner of Hamburg Süd, guiding the company's restoration and eventual entry into container shipping.
When Maersk announced the agreement to acquire the company in 2016, they reported Hamburg Süd was the world's seventh largest container shipping line and a leader in the North — South trades. Hamburg Süd had over $6.7 billion in revenues mostly from its container line activities. The shipping business generated more than half of the combined revenues of all the companies owned by Dr. Oetker.
Maersk announced in January 2023 that it intended to discontinue the Hamburg Süd brand along with others consolidating into the Maersk brand identity. The first of Hamburg Süd's vessels was reportedly rebranded to Maersk's livery in May while the shipping company had said it would be an extended transition slowing removing the identity from the ships and other elements of the operation.