Gulftainer Signs $600 Million Concession for Port of Wilmington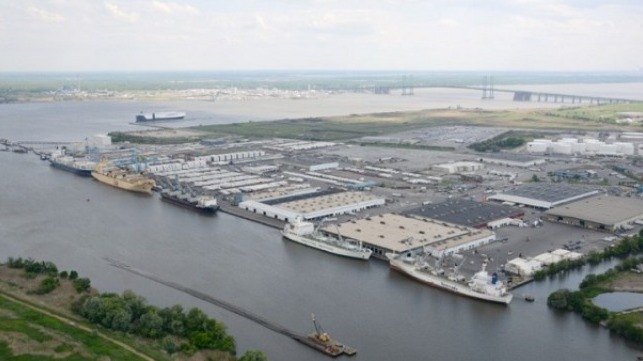 Gulftainer, a privately-owned independent port operator and logistics company based in the UAE, has finalized a 50-year concession with the State of Delaware in the U.S. to operate and develop the Port of Wilmington.
The agreement, signed by Gulftainer's subsidiary GT USA, will see an expected investment of up to $600 million in upgrades, turning it into one of the largest facilities of its kind on the eastern seaboard. Developments will include spending $400 million on a new 1.2 million TEU container facility at DuPont's former Edgemoor site, which was acquired by the Diamond State Port Corporation in 2016.
Plans for the Port also include development of all cargo terminal capabilities at the facility and enhancement of its overall productivity. Gulftainer will also establish a training facility at the development site specifically for the ports and logistics industries that is expected to train and upskill up to 1,000 people per year.
The port deal represents the largest operation ever run by a UAE company in the U.S., as well as the largest investment ever by a private UAE company in the country.
The concession follows a year of negotiations and a thorough evaluation of Gulftainer's capabilities globally, including in the U.S., where it currently operates the Canaveral Cargo Terminal in Port Canaveral, Florida, and provides services to the U.S. Armed Forces as well as the U.S. space industry. The Delaware concession agreement also involved a formal review by the Committee on Foreign Investment in the United States (CFIUS), granting Gulftainer exclusive rights to manage the Port.
The Port of Wilmington opened in 1923 and is a fully serviced deep-water port and marine terminal strategically located on 308 acres at the confluence of the Delaware and Christina Rivers. It is the top North American port for fresh fruit imports into the U.S. and has the largest dockside cold storage facility in the Country.
In recent years total bilateral trade between the UAE and the U.S. has grown from approximately $5 billion in 2004 to over $24 billion in 2017. The U.S. had a $15.7 billion trade surplus with the UAE, its third largest trade surplus globally.