Grounded Ro/Ro Spills Fuel Oil off Sweden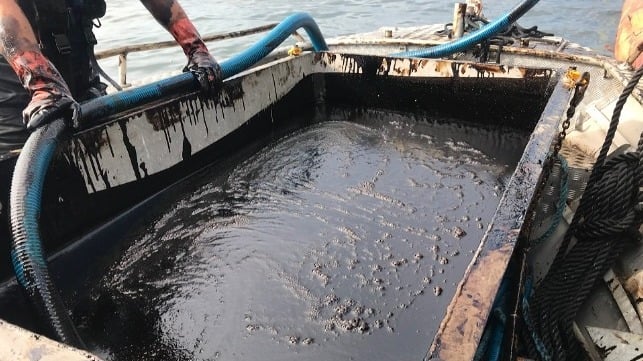 The grounded car carrier Makassar Highway refloated unexpectedly off the coast of Valdemarsvik, Sweden last weekend, releasing an unknown quantity of fuel oil from her damaged bunker tanks. Spill response boats have recovered about 1,800 gallons of HFO so far, but not enough to prevent a small amount from reaching shore near the town of Flatvarp and the nearby Torro Nature Reserve.
"We are doing everything we can to prevent further oil from landing. The amount of oil that has come out is not yet determined. In terms of the total amount of oil [on board], this is a smaller portion," said response coordinator Roger Gebauer. "We are working well with all involved players and we all have a common goal: protecting the marine environment by combating oil leaked and preventing further oil spill."
The vessel is no longer leaking more fuel into the sea, and it has been removed from the scene. Nearly 90,000 gallons of fuel were on board at the time of the grounding, and salvors will now lighter off the rest of the oil, as originally intended in the government's response plan. Meanwhile, the spill response team is working to clean as much fuel off the surface of the water as possible in order to minimize the environmental damage and cleanup expense of oiled shorelines.
Kustbevakningen
On shore, over 100 people are now engaged in a beach cleanup effort, including military and coast guard servicemembers. The coast guard cautioned members of the public to avoid contact with the oil and to avoid inhaling its fumes. The most-affected area has been cordoned off to ensure safety and prioritize access for the response teams.
The Makassar Highway went aground on a rocky shoal off Vastervik, Sweden last week, resulting in damage to her bow and port side, with water entering two of her tanks. Pär-Åke Eriksson, the coast guard station manager at Vastervik, told Swedish broadcaster SVT that the vessel was making 14 knots prior to the grounding.
Swedish prosecutors have charged the Makassar's chief officer with negligence in connection with the grounding, and he has reportedly accepted a 60-day sentence.
Kustbevakningen