Greek Ferry Helps Evacuate Hospital Amidst EU's Largest Wildfire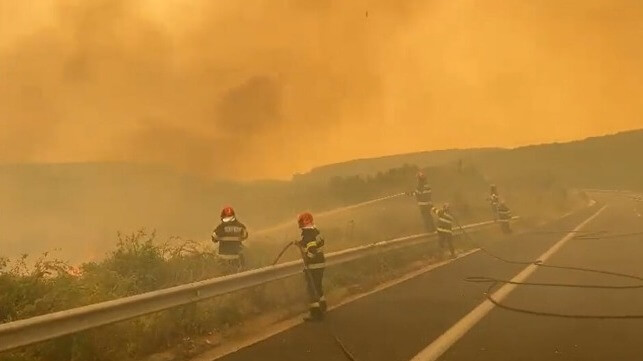 As wildfires raged in northeastern Greece earlier this week, officials decided to evacuate a hospital that was threatened by the approaching flames. The best alternative available for dozens of patients and staffmembers was a ferry, the Adamantios Korais.
Greece is battling dozens of simultaneous wildfires across the country, including a 280-square-mile blaze near Alexandroupolis that has grown to become the largest ever recorded in the European Union. The fires have claimed 20 lives, the majority in the Alexandroupolis region.
On Tuesday, as that fire approached the University Hospital of Alexandroupolis on the city's edge, hospital staff and local first responders made preparations to evacuate. With the assistance of police and ambulance services, they transferred 115 patients - from newborns to ICU patients - to safe locations elsewhere. According to local media, flames had reached the grounds of the hospital as the evacuation was taking place.
65-90 of the patients were brought aboard the ferry Adamantios Korais, about five miles away at the port of Alexandroupoli. The hospital staff set up cots for them on an interior deck, along with medical equipment for their continued care.
??????????? video ??? ?? DRONE ???? (01:50): ? ????? ????????? ?? ??????????. ???????? ??????? ????.

???? ????????? ???? ??????? ??? ?? 112.

??????? ??? ???: https://t.co/0OF84NEElE pic.twitter.com/haO210XS7e

— e-evros.gr (@eevrosgr) August 21, 2023
University Hospital of Alexandroupolis evacuated due to wildfire pic.twitter.com/Vy4Hm3EAmc

— Yiorgos Vassalos (@YiorgosVa) August 22, 2023
According to the @HCoastGuard, 65 patients were transferred aboard the passenger ferry "Adamantios Korais" at the port of #Alexandroupolis following the evacuation from the Alexandroupoli General Hospital.

???? Athens News Agency #GreeceFires pic.twitter.com/N5Mzlw9WWx

— Daphne Tolis (@daphnetoli) August 22, 2023
The ferry then got under way for the port of Kavala, well away from the fire, based on AIS data.
Greece's Climate Crisis and Civil Protection Minister, Vassilis Kikilias, has blamed at least some of the wildfires on arson - including nine fires started Thursday morning outside Athens. He warned the perpetrators that they had committed a crime against the nation, and would be caught and prosecuted.
Meanwhile, the large fire near Canakkale, Turkey - which forced a temporary closure of the Dardanelles - has been fully contained, with no loss of life.