German PSV Tests Silicone-Based Hydrogen Fuel Storage System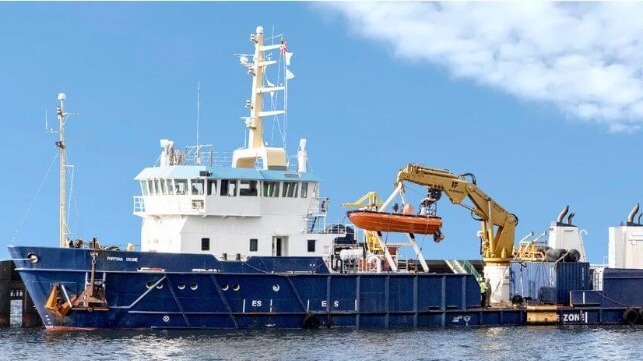 A consortium of French hydrogen energy companies are working on a novel H2-power installation aboard an older supply vessel, the 1975-built Fortuna Crane. The demonstrator-scale system will store hydrogen fuel in a liquid, silicone-based hydrogen carrier, which can be kept in tanks on board without refrigeration or pressurization.
The "HydroSil" carrier was developed by French startup HSL Technologies, and it is unique. Most dissolved-hydrogen carrier liquids are based on petroleum products; HydroSil is carbon-free. It can carry a hydrogen density of about nine percent by weight, according to HSL, and is stable at ambient temperature and pressure. The hydrogen release process requires no energy input, HSL says.
The project partners anticipate that HydroSil will reduce the space needed for on-board storage by a factor of two when compared to compressed hydrogen gas systems.
Fortuna Crane will be retrofitted with an HSL fuel storage system and with a 50 kW (67 horsepower) hydrogen fuel cell provided by French manufacturer Helion, a division of Alstom. It will be the first time that a hydrogen carrier of this type has been used aboard a ship. Other project partners include BV, the Port of Esbjerg, German shipowner OS Energy, and the Anglo-European RESHIP program.
"Through this demonstrator we intend to showcase our technological advancement by testing the compatibility of our fuel cells with liquid hydrogen carriers," said Helion President Vincent Maheo in a statement. "Once retrofitted, this vessel will be a pioneer of its kind."
Fortuna Crane is a 625 GT workboat built in 1975. It is fitted with a large 27-tonne crane on deck and a stern-mounted A-frame, and it is equipped for survey work, buoy handling, UXO, dive support and various offshore supply roles.
Helion also holds a contract to deliver a larger 200 kW modular fuel cell system for the world's first hydrogen hybrid powered dredger, the HyDroMer.