Founder of Clean Up Australia Ian Kiernan Passes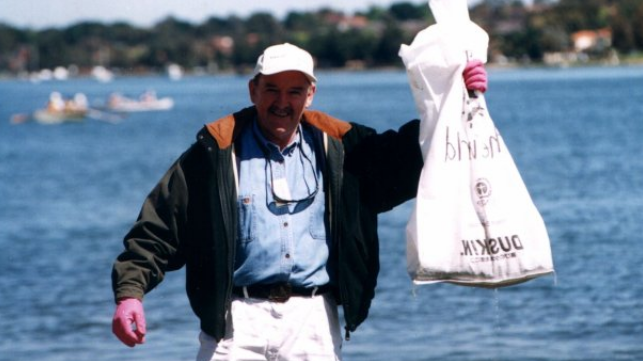 The Founder and Chairman of Clean Up Australia Ian Kiernan has passed away.
Kiernan's work, including cleaning up Australia's beaches and oceans and educating people on plastic bags, was fundamental to shaping Australia's attitude towards preventing pollution of the marine environment. This extended to the thousands of people who take actions such as saying "no" to a plastic bag at the checkout or refuse a single use item.
His vision created Clean Up Australia, the nations largest community mobilization effort which is now firmly embedded in Australian and global culture.
As an avid sailor, Kiernan had always dreamed about sailing around the world. In 1987, his dream came true when he competed in the BOC Challenge solo around-the-world yacht race.
As he sailed through the oceans of the world in his yacht Spirit of Sydney he was shocked and disgusted by the pollution and rubbish that he continually encountered in areas such as the Sargasso Sea in the Caribbean. Having waited years to see the Sargasso's legendary long golden weeds, Kiernan's excited anticipation turned to anger and disappointment when he found the waters polluted and tangled with rubbish.
Back in Sydney Ian organized a community event with the support of friends, including Clean Up co-founder Kim McKay, Clean Up Sydney Harbour. The next year Clean Up Australia Day was born.
Ian and his committee believed that if a capital city could be mobilized into action, then so could the whole nation. Almost 300,000 volunteers turned out on the first Clean Up Australia Day in 1990 and that involvement has steadily increased ever since.
Since then Australians have devoted more than 33 million hours towards the environment through Clean Up Australia Day removing the equivalent of more than 350,000 ute loads of rubbish.
The next step for Kiernan and McKay was to take the concept of Clean Up Australia Day to the rest of the world. After gaining the support of the United Nations Environment Programme (UNEP), Clean Up the World was launched in 1993. In its inaugural year, Clean Up the World involved approximately 30 million people in 80 countries.