Flinterstar Salvage Effort Complete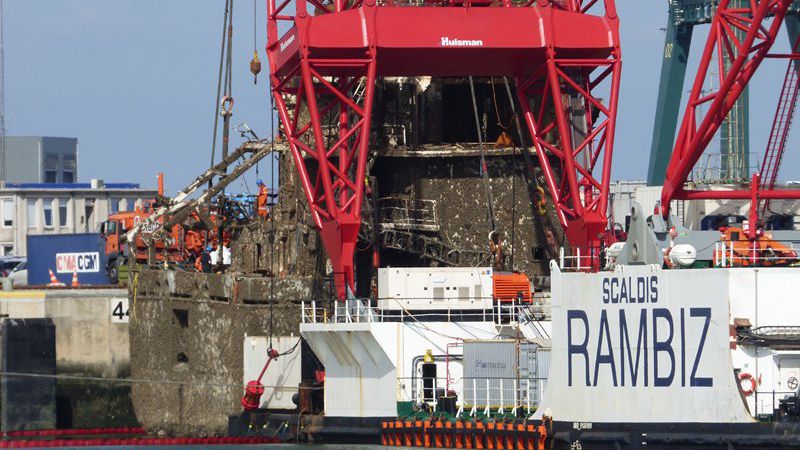 The wreck of the freighter Flinterstar off Zeebrugge, Belgium is now fully removed, government officials confirmed on Thursday.
The Flinterstar partially sank following a collision with the Q-MAX LNG tanker Al-Oraiq last October. The wreck site – on a sandbank close to the approaches to Antwerp and Vlissingen – was near one of the busiest shipping routes in Europe. Now that the salvage is complete, "normal maritime traffic can resume without a no-go zone for pleasure and fishing boats, an important factor for our marine economy," said Belgian secretary of state for the North Sea Philippe De Backer. He added that the salvage effort was finished one month ahead of schedule.
Salvors SCALDIS lifted her bow in June, and on Wednesday the remaining section of the vessel's stern was brought to Ghent for recycling, completing the three month, multi-million-dollar salvage effort.
The government and the owner of the Flinterstar are still working out who is responsible for paying for the salvage effort, and an investigation continues into the cause of the collision and subsequent sinking.
"Now that the salvage is behind us, we want to work towards a rapid recovery of the costs incurred. An independent investigator has been appointed to identify the cause and the person responsible for the disaster. " De Backer said. "That investigation is still ongoing, but afterwards we look to recover as much of the costs as possible from those responsible."
AIS data suggest that the 9,000 dwt Flinterstar was to starboard of the 120,000 dwt Al Oraiq in a crossing situation prior to the collision.
Following the accident, the freighter's crew were rescued from the water and one was treated for hypothermia. The Al-Oraiq also suffered damage but returned to commercial trade.