Ferry Crewmember Dies in Line-handling Accident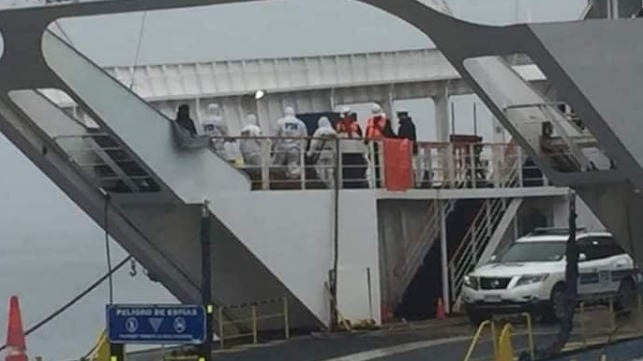 A crewmember of the ferry Pathagon died Sunday morning in Punta Arenas in a line-handling accident. Crewmember Ronald Ojeda, 40, was handling a cable for docking when he became entangled in the line, according to local media. One of his arms became trapped in unspecified deck equipment. The ferry transmitted a distress call, and emergency services personnel responded to the scene in Tres Puentes, a neighborhood on the north side of Punta Arenas. Ojeda did not survive.
The vessel's operator, Tabsa, said in a statement that it was suspending service on the line until further notice. The company did not provide further details, citing an ongoing investigation. "We are waiting for the finalization of the rigorous procedures established by law to be able to provide them with more information," Tabsa said in a social media statement. Traffic bound for Porvenir was temporarily diverted to Tabsa's Punta Delgada terminal, 100 road miles to the northeast.
Homicide detectives from Punta Arenas conducted an investigation to determine the cause of Ojeda's death, in cooperation with Chilean maritime authorities. The investigators concluded Monday that the fatality was an industrial accident.
According to local media, Ojeda was a father of three and was studying to become a marine pilot.