Fathom Travel Adds Impact Sailings to Caribbean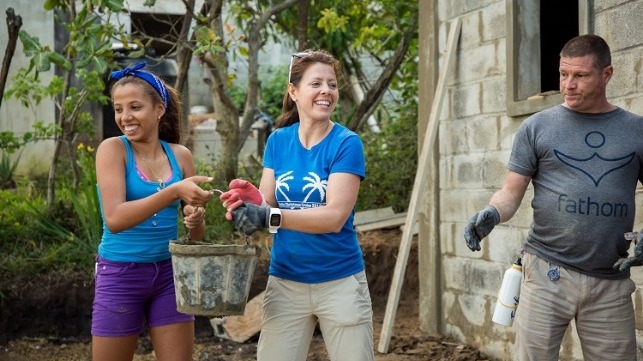 Princess Cruises and Fathom Travel have announced six additional impact sailings, called Travel Deep sailings, to the Caribbean. The new voyages follow an inaugural sailing in January on board Crown Princess with more than 150 guests participating in a donation drop and community care.
The Crown Princess visited Antiqua, St. Maarten, St. Thomas and Amber Cove in January and guests helped with rebuilding, beach clean-up, reforestation and therapy through arts.
In St. Thomas, the Fathom Travel group on Crown Princess handed out nearly $14,000 worth of baby items, purchased by travelers, to more than 200 young families from the island. In the afternoon, the group helped the local Boys & Girls Club, where they built game tables, repainted facilities and heard stories from local children.
St. Maarten offered a clean-up at Guana Bay, a beach important to three species of sea turtles that nest on the island. More than 1.5 tons of trash was collected and removed. In addition, travelers visited the National Institute of Art, where they spoke to locals and supported their ART HEALS program through participation, and a donation of $1,500.
At Amber Cove in the Dominican Republic, one group of 50 travelers took part in the construction of two homes by pouring concrete floors for families who lost their home during hurricanes. Another group of 50 travelers visited a local school and spent time visiting with students. Later, the group planted 400 seeds of mahogany and out-planted 90 seedlings.
The additional Travel Deep group sailings allow us to offer our Princess Cruises guests more opportunities to make an impact within the communities in need while adding meaning and a deeper connection during their travels, said Tara Russell, Fathom president and Carnival Corporation global impact lead.
The program has been added on the following seven-day Princess Cruises Caribbean cruises departing from Fort Lauderdale:
Regal Princess, departing March 18, 2018
Caribbean Princess, departing May 26, 2018
Caribbean Princess, departing June 30, 2018
Caribbean Princess, departing July 28, 2018
Caribbean Princess, departing August 18, 2018
Royal Princess, departing November 17, 2018